Temi Fagbengle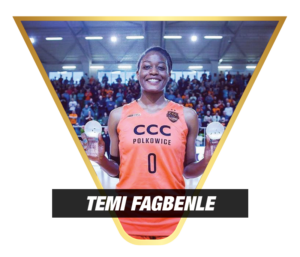 Height:

6' 4" (1.93m)

Position:

Power Forward/Center (4-5)

Birthdate:

September 8, 1992

Nationality:

British/Nigerian

College:

University of Southern California - USC (2016)
Temi Fagbenle STATS
2022 – 2023 USK Praha (Euroleague) - Eurocup)
20.3 ppg, 8.7 rpg, 2.4 apg, FGP: 73.1%, FT: 69.4%
2020 – 2021 Cukruova Mersin (Turkey - Eurocup)
13.4 ppg, 6.5 rpg, 2.1 apg, FGP: 63%, FT: 83.3%
Career
2018-2019: CCC Polkowice (Poland-EBLK, starting five) - 32 games: 13.6ppg, 7.1rpg, 1.3apg, 1.3bpg, 1.2spg, FGP: 53.3%, 3PT: 43.8%, FT: 72.5%
Euroleague: 16 games: 13.6ppg, 6.0rpg, 1.3apg, FGP: 49.4%, 3PT: 40.0%, FT: 85.4%
2018: Minnesota Lynx (WNBA) - 31 games: 3.5ppg, 2.1rpg
2017-2018: CCC Polkowice (Poland-BLK, starting five) - 29 games: 15.3ppg, 6.2rpg, 1.7apg, 1.0bpg, 0.9spg, FGP: 60.5%, 3PT: 33.3%, FT: 69.1%
Euroleague: 13 games: 10.8ppg, 6.5rpg, 1.0apg, FGP: 51.8%, 3PT: 33.3%, FT: 79.2%
2017: Minnesota Lynx (WNBA) - 23 games: 1.3ppg
2016: Minnesota Lynx (WNBA), only pre-season
2016: Drafted by Minnesota Lynx (WNBA, 3rd(35))
Eurobasket.com All-Polish BLK Bosman Player of the Year -19
Eurobasket.com All-Polish BLK Forward of the Year -19
Eurobasket.com All-Polish BLK Player of the Year -19
Polish BLK Regular Season Champion -19
Euroleague Quarterfinals -19
Eurobasket.com All-Euroleague Honorable Mention -19
Polish Cup Winner -19
Qualifications to Eurobasket 2019 -18 - 6 games: 15.3ppg, 9.3rpg, 1.0apg, 1.2spg, FGP: 46.9%, 3PT: 16.7%, FT: 61.9%
Polish EBLK -19 (Player of the Week Rd.1)
Eurobasket.com Polish BLK All-Bosmans Team -18
Eurobasket.com All-Polish BLK 1st Team -18
Eurobasket.com All-Polish BLK Center of the Year -18Eurobasket.com All-Polish BLK Center of the Year -18
Eurobasket.com All-Polish BLK Finals MVP -18
Polish BLK Champion -18
Polish BLK -18 (Player of the Week: 2 times)
WNBA Champion -17
WNBA Western Conference Regular Season Champion -17
Qualifications to European Championships 2017 -16 - 2 games - 3.5ppg, 4.0rpg
WBCA Division I All-Region 5 Team -16
WBCA NCAA D1 All-America Honorable Mention -16
All-Pac-12 1st Team -16
European Championships in Hungary and Romania -15 - 4 games: 11.5ppg, 6.5rpg, 1.5spg, 1.0bpg, FGP: 44.7%, FT: 75.0%
Qualifications to European Championships 2015 -14 - 5 games: Score-5(16.6ppg), 5.6rpg, 1.6apg, FGP: 54.0%, FT: 60.0%
Ivy League Co-Runner-Up -14
All-Ivy League 1st Team -14
All-Ivy League 2nd Team -13, 15
All-Ivy League Rookie of the Year -13
Ivy League Runner-Up -13
Olympic Games in London (United Kingdon) -12 - 5 games - 4.8ppg, 4.0rpg, 1.0apg, 1.0spg, 1.2bpg
British National Team -12, 14-15-18
European Championships U20 in Serbia -11 - 7 games: 9.0ppg, 8.3rpg, 1.1bpg, FGP: 42.3%, FT: 73.1%
British U20 National Team -11
Eurobasket.com All-European Championships U18 Division B 2nd Team -10
European Championships U18 Division B for Women in Timisoara (Romania) -10 -8 games: Score-5(16.0ppg), Reb-1(12.0rpg), 2.0spg, Blocks-2(2.5bpg), FGP: 59.8%, FT: 82.8%
English U18 National Team -10
British U16 National Team -08
European Championships U16 Division B in Bravetz/Botevgrad (Bulgaria) -08
2015-2016: USC (NCAA, starting five) - 32 games: 13.6ppg, 8.7rpg, 1.3apg, 1.8spg, 1.2bpg, FGP: 51.4%, 3PT: 25.0%, FT: 70.5%
2014-2015: Harvard (NCAA, starting five) - 5 games: 13.4ppg, 9.0rpg, 1.0apg, 2.0spg, 1.0bpg, FGP: 50.0%, FT: 81.8%
2013-2014: Harvard (NCAA, starting five) - 29 games: 13.3ppg, 9.3rpg, 1.7apg, 1.4bpg, FGP: 55.4%, 3PT: 28.6%, FT: 70.5%
2012-2013: Harvard (NCAA, starting five) - 29 games: 12.3ppg, 7.7rpg, 1.1apg, 1.0spg, 1.3bpg, FGP: 57.8%, 3PT: 66.7%, FT: 68.4%
2011-2012: Harvard (NCAA) - 1 game - 0pts
2010-2011: Blairstown, NJ / Blair Academy
Graduate Student (2015-2016): Joined the Women of Troy for the 2015-16 after finishing her undergraduate degree at Harvard. In her last season of eligibility as a USC graduate student. Fagbenle has stood tall as a Trojan and is a team captain who now boasts a spot on the prestigious All-Pac-12 Team. Fagbenle recorded 10 double-doubles as a Trojan, while leading the team in scoring (13.6 ppg), rebounding (8.7 rpg), blocks (1.2 bpg), steals (1.8 spg), free throws made (93) and minutes played (30.3 mpg) . She was named the Pac-12 Player of the Week earlier this season after helping lead USC to an upset win over ranked crosstown rival UCLA. Her presence helped USC open the year with 12 straight wins, marking the best season start for the Women of Troy since 1982-83. Fagbenle scored in double figures in 24 games, with 12 double-digit rebounding days. The full-time starter also interrupted opposing offenses enough to earn the right to Pac-12 All-Defensive Honorable Mention. Fagbenle averaged 1.8 steals per game and has hauled in 177 defensive rebounds while serving up 39 blocks on the defensive end. Her numbers in conference play were even stronger. She averaged 14.3 points and 9.1 rebounds while shooting 54 percent from the floor during Pac-12 play. In the nation, Fagbenle ranks No. 59 in the nation with her 51.4% scoring. Against top-25 ranked opponents this season, Fagbenle averaged 12.3 points, 7.9 rebounds, 1.5 steals and 1.0 blocks per game.
Senior (2014-2015): An All-Ivy League Second Team selection in her final season at Harvard... Started in all 28 games played... Averaged 14.4 points, 10.4 rebounds, 2.0 assists and 1.0 blocks per game... Posted 13 double-doubles... Ranked first in the Ivy League and 37th in the country in rebounds per game (10.1)... Scored 23 points and grabbed a program record 24 rebounds against Temple... Neared a triple-double with 28 points, 12 rebounds and seven assists vs. Brown.
Junior (2013-2014): An All-Ivy League First Team selection... College Sports Madness Preseason All-Ivy League First Team… Three-time Ivy League Player of the Week (Nov. 25, Jan. 13 and March 3)… Two-time College Sports Madness Ivy League Player of the Week (Nov. 25, Jan. 13)… Named to ASU Classic and Fordham Holiday Classic All-Tournament Teams… Averaged 13.3 points and 9.3 rebounds per game in 29 games started… Led the league in rebounding, field goal percentage (.548) and defensive rebounds (6.5)… Ranked second in the Ancient Eight in blocked shots (1.4)... Posted 11 double-doubles.
Sophomore (2012-2013): An All-Ivy League Second Team honoree... Ivy League Rookie of the Year... Set Ivy League record as a 10-time Rookie of the Week winner... Named to San Diego Surf 'N Slam Classic All-Tournament Team... Recorded her first career double-double with 13 points and 10 boards at North Dakota... Scored a career-high 26 points on 11-of-14 shooting along with 13 rebounds at Penn... Had a career-high four blocks against SMU.
Freshman (2011-2012): Sat her first year in residency at Harvard.
A 2012 Olympian for Great Britain, averaged 4.8 ppg, 4.0 rpg and 1.2 bpg while playing 20.0 minutes at the London Games... Appeared in all five games for Great Britain at the 2012 Olympics, including starts against Australia, Canada and Russia... Was just the second Ivy League women's basketball player in history to compete in the Olympic Games... Named England's 2010 U18 Player of the Year… Won the 2010 U18 Women's European Championship with England, standing as the tournament leader in five statistical categories including rebounds, double-doubles and two-point field goal percentage… Named MVP of the Blue Star Europe Tournament in 2011.
A 2011 McDonald's All American, Fagbenle also was named to the Parade All-America Team as a senior out of Blair Academy in New Jersey... Also named New Jersey Gatorade Player of the Year... Ranked 13th overall and fifth at forward in the 2011 recruiting class by ESPN HoopGurlz... Ranked fifth by Blue Star Basketball... Named Eastern Propane MugsMedia Prep Player of the Year as a senior... Led Blair Academy to the MAPL and state titles as a senior... Earned Worcester Basketball Tournament MVP honors as a sophomore and junior... Received All-MAPL honors... A three-time MAPL and state champion in the high jump... Won the javelin at the MAPL and states as a sophomore and the shot put as a senior... Two-time discus MAPL and state champion... Set high school high jump record... Performed in her high school musical "The Drowsy Chaperon"... Member of the student council... Her brother, Dapo, played basketball at Campbell and Bellarmine.
Born Sept. 8, 1992 in Baltimore, Md.... Lived the majority of her life in London, England... The daughter of Buki and Tunde Fagbenle... Has 11 siblings, Kunle, Dokun, Banke, OT, Luti, Dapo, Tito, Pekun, Torera, Tife and Tani... Dapo played basketball at Campbell and Bellarmine... Her family now lives in Ibadan, Nigeria... Says stepping into Olympic Stadium as a member of the British Olympic Team was her most thrilling sports moment... Enjoys reading, listening to music, biking, eating Nigerian food, singing, dancing and sewing in her free time... Lists Roger Federer as her biggest sports hero... Hopes to travel to every African country... Would like to get involved with creative and artistic modeling... Hopes to play professionally after graduation, and pursue an acting or singing career... Is also interested in starting her own business... Currently pursuing a master's degree in strategic public relations at USC.