Sydney Wallace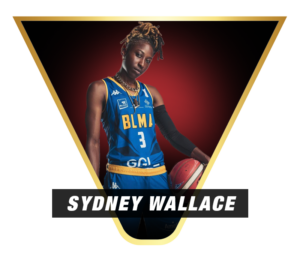 Sydney Wallace 2020 – 2021 STATS
BLMA (France - Euroleague)
16.2 ppg, 3.8 rpg, 1.2 apg, FGP: 55.4%, 3FG: 37%, SPG: 1.8, FT: 96.1%
Height:

5' 8"


Position:

Combo Guard


Nationality:

British/

American

College:

Georgia Tech

Sydney Wallace Scouting Report
Sydney Wallace is one of the best scorers in the world. She can create her own shot off the dribble and can play off the ball. She locks in defensively and will pressure the ball consistently. She rebounds like a forward and is elite in transition; extremely fast end-to-end. Her game has no weaknesses.
2021-2022:BLMA (France – Euroleague, D1, starting five):
2020-2021: Sosnowiec (Poland – D1, starting five): 21 games: 25 ppg, 3.5rpg, 2.2apg, FGP: 54.8%, 3PT: 38.6%, FT: 90.8%
2018-2019: Catz (Finland – D1, starting five): 12 games: 29ppg, 4.2rpg, 1.7apg, FGP: 50%, 3PT: 39.6%, FT: 92.7%
2017-2018: Sf. Gheorghe (Romania – Eurocup, D1, starting five): 7 games: 19ppg, 5rpg, 1apg, FGP: 71.4%, 3PT: 56.3%,
2016-2017: Toulouse (France – D2 starting five): 7
games: 20ppg, 5.6rpg, 1.4apg, FGP: 41%, 3PT: 39%, FT: 89%
2016-2017: BBC Les Portes du Soleil Troisstorrents (Switzerland – D1, starting five) – 2 games: 19ppg, 8.5rpg, 0.5 apg, FGP: 34.5%, 3PT% 50%
.
COLLEGE
2014-15: Scored her 1,000th career point against Lipscomb, becoming the 27th Yellow Jacket to reach the milestone… Started 13 games before tearing her ACL against Lipscomb on Dec. 29… Hurt her knee on the shot that gave her 1,000 career points… Made 23 3-pointers… Notched 1,001 career points… Recorded 167 made 3-pointers ranks sixth all-time on GT's career list… Averaged 13.1 points per game, 2.6 rebounds per game, 2.5 assists per game and 1.8 steals per game… Made at least three 3-pointers in three games… Scored 14 points in back-to-back games against Loyola on Nov. 14 and Morgan State on Nov. 16… Recorded 10 points vs. Lipscomb before suffering a season-ending injury…
2013-14: Played in 29 games and started 28… Missed three games at the end of the season because of an injury sustained at Florida State… Averaged 9.8 points, 1.9 rebounds and 1.8 assists per game… Averaged 1.8 made 3-pointers per game… Was second on the team with 49 3-pointers made… Moved into sixth in Georgia Tech's record book for career 3-pointers made with 142… Made at least three 3-pointers in 10 games… Scored in double figures in 10 games… Recorded three 20 point games this season… Against Western Carolina on Nov. 10… made four 3-pointers while scoring 16 points overall … Dished out a career-high five assists against Southern Utah on Nov. 29… Named to the Georgia Tech Holiday All-Tournament Team after averaging 10.5 points per game in the tournament… After missing three games due to injury, scored a team-high 20 points at LSU on Mar. 23 in the NCAA Tournament…
2012-13: Played in 30 games and started 17… Made at least three 3-pointers in six games… Moved into ninth all-time at Georgia Tech in career 3-pointers with 93… Scored in double-digits 13 times… Finished with at least 20 points five times… Played one of the best games of her career against NC State on Jan. 27 with 21 points, four assists and four steals…
2011-12: Played in 34 games and started one (at Marquette)… Scored in double digits eight times and led Tech in scoring five times… Was named to ACC All-Freshman Team and ACC Newcomer Watch List… Set Georgia Tech NCAA Tournament records with 28 points, field goals made (11), 3-pointers made (6) and field goal percentage (84.6) against Sacred Heart in first round… Became first Yellow Jacket to score at least 20 points in first two NCAA Tournament games when she finished with 23 against Georgetown… Set Georgia Tech NCAA Tournament record with 32 points against No. 1 ranked Baylor in Sweet 16… Tied Tech single-game record with eight three-pointers against Lady Bears… Scored all seven of her points at Maryland in a span of 38 seconds… Scored all five points against Terps at home in 10 seconds… In ACC Semifinal against NC State, scored six points in 30 seconds… Led team with 13 points in collegiate debut against Alabama State.
PERSONAL
Born Sydney Tamara-Nicole Wallace on Dec. 6, 1993 in Atlanta… Parents are Mark and Gillian Wallace…Has a younger sister Logan… Majored in History, Technology and Science.