Sparkle Taylor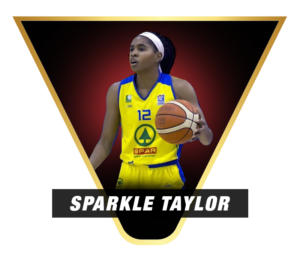 Height:

5' 10"


Position:

Shooting Guard (1)

Nationality:

American

College:

Texas-El Paso
SPARKLE TAYLOR STATS
2022 – 2023 UMCS Lublin (Eurocup)
19.3 ppg, 57.1 rpg, 4.7 apg, FGP: 54.8%, 3FG: 31.3%, FT: 82.4%
2022 – 2023 Chicago Sky (WNBA)
5.5 ppg, 1 rpg, FGP: 100%, FT: 100%
2021-2022: Satu Mare (Romania – D1)
24.7 ppg, 7 rpg, 2.1agp, FGP: 59.2%, 3PT: 50%, FT: 83.1%
2020-21: Gran Canaria (Spain – D1)
18.2ppg, 4.5rpg, 1.7apg, FGP: 44.5%, FT: 70.8%
2020 – 2021 Satu Mare (Romania D1)
24.3 ppg, 7.1 rpg, 2.2 apg, FGP: 56.4%, 3FG: 40.3%, FT: 81.3%
Sparkle Taylor Scouting Report
Sparkle Taylor is a physical and shifty combo wing.  She has become knock-down three point shooter and can get to the rim at ease. She punishes smaller defenders and blows by bigger defenders. She has a Carmelo Anthony-like mid-range game. An underrated passer, her ability to draw defenders and find her teammates for open shots make her an elite level talent. Defensively, she is big and strong, and guards positions 1-3.
Profile
2016-17 Preseason All C-USA Team
2016 C-USA Sixth Player of the Year
2015-16 (JUNIOR): 
Named the 2016 Conference USA Sixth Player of the Year ... put up 9.8 points/game in only 17.3 minutes/game ... was top scorer off the bench for the Orange and Blue 17 times overall, including 10 of her total 15 games played during C-USA action ... hit double figures in scoring in 17 contests, aided by eight straight early in C-USA action ... averaged 14.0 points on 50.5 percent (50-99) shooting during hot streak ... overall nailed 47.2 percent (126-267) of her shots from the floor to place second on the squad and 13th in C-USA in field-goal percentage ... grabbed 2.9 rebounds/game, with the majority (86 of 100) of her boards coming at defensive end ... surpassed 700 career points during the year ... provided big spark in WNIT second-round win vs. Arkansas State (3/21) by tallying 18 points to go along with six rebounds ... registered team-high seven boards while also scoring 15 points in win vs. UTSA (1/17) ... poured in a season-high 21 points to help UTEP post a comeback win vs. UAB (1/10) ... dropped 19 points in the Miners' triumph against UNLV (12/19) ... set a career high with three steals at FIU (1/23) and equaled it in C-USA semifinal game vs. Old Dominion (3/11) ... hit a personal-best eight free throws vs. FAU (2/13) ... scored seven points-all in final 2:42 of game at Long Beach State (12/18).
2014-15 (SOPHOMORE): 
Started in 20 of the 28 games she played in for the squad ... led the Miners to a 10-10 record as a starter, joining Agata Dobrowolska as the only players to reach the .500 mark in that statistic ... averaged 20.4 minutes per game ... ranked second on the team in scoring average (10.3 points per game) ... tied for third on the team averaging 4.4 rebound per game ... dropped a career-high 25 points and four assists in a victory over Eastern New Mexico (12/2/14) ... scored in double digits 11 times during sophomore campaign ... connected on 43.6% (112-257) of her shots from the field ... tallied a career-high tying three steals against UAB (1/29/15) ... swatted a career-best three balls versus Kansas State (11/25/14).
2013-14 (FRESHMAN): 
Came off the bench in all 35 appearances ... played a season-high 21 minutes against East Carolina (2/22) ... snatched career-best seven rebounds at UTSA (1/25) ... rarely shot the long ball, but she connected 60% of the time (6-10) ... shot 47.6% from the field (67-140) ... only true freshman to earn significant playing time ... scored double-digits in consecutive games for the first time in her career against Louisiana Tech (2/5) and FIU (2/8), scoring 15 and 16 points respectively ... not scared of contact, attempted 77 free throws on the year, making 50 of them ... recorded two steals against Rice (3/1) , which was a career-high ... averaged 7.3 points per game during Miners 16 conference games ... scored 5.0 points per game in WNIT with a shooting percentage of 41.7 ... in the opening game of WNIT, scored 12 points against Arkansas State (3/21).
PRIOR TO UTEP: 
Earned Associated Press Class B All-State Team honors as both a junior and a senior while starring for Northwestern High School ... also named to the first team of the Flint Journal area Dream Team her final two years at NHS ... averaged a double-double, with 28 points and 10.6 rebounds per game as a senior ... showed versatility by shooting 41 percent from the three-point line ... registered multiple triple-doubles, piling up steals and assists to go along with her standard efforts as a scorer and rebounder ... averaged 15.3 points and 8.7 rebounds per contest during her junior season ... was the team's second-leading scorer ... helped lead the school to its first district title since 1999 while accounting for game averages of 13.4 points, 8.8 rebounds and 2.4 steals as a sophomore ... did not start to play organized basketball until the ninth grade ... previously competed only in cross country.