Monique Billings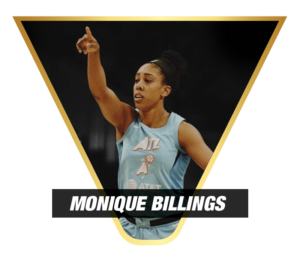 Position: Forward
Height: 6-4, Weight: 185lb

Born:

May 2, 1996

(Age: 23-295d) in Riverside, California

us
College: UCLA
Monique Billings 2020 – 2021 STATS
Atlanta Dream (WNBA)
6.5 ppg, 6.3 rpg, 1.1 apg, FGP: 47.4%, FT: 76.5%
Townsville (Australia D1)
15.9 ppg, 7.3 rpg, 1 apg, FGP: 55.2%, 3FG: 33.3%, FT: 69.8%
CAREER HIGHLIGHTS: 
Has appeared in 61 regular season games with two starts with an average of 14.9 minutes per game.

Played in five postseason games with Atlanta in 2018

Career totals include 266 points, 289 rebounds, 28 assists, 31 steals and 13 blocks.

Recorded a career-high 16 rebounds against Los Angeles (7/14/19), the most earned by any Dream player since Elizabeth Williams pulled down 16 boards in 2016 (vs. Phoenix, 9/11/16).
2019 HIGHLIGHTS WITH ATLANTA:
Appeared in 29 of 34 games with two starts

Posted her first career double-double with 10 points and a then-career-high 14 rebounds against Washington (6/23)

Led the team in total rebounds on eight occasions, and led in all three rebounding categories (offensive, defensive, total) three times

Shot 100 percent from the free throw line with at least two attempted free throws seven times, including a team-leading 6-6 performance against Indiana (6/19)

Led the team in scoring twice, including a career-high 16-point outing against Los Angeles (7/23) and 15 points at Seattle (9/1)

Shot and made her first three-point attempt at Seattle (9/1)

Blocked a career-high three shots against Chicago (8/20) to lead the team

Recorded a career-high 16 rebounds against Los Angeles (7/14), the most earned by any Dream player since Elizabeth Williams pulled down 16 boards in 2016 (vs. Phoenix, 9/11/16).

Set new career high records with nine offensive rebounds (vs. Los Angeles, 7/14) and 12 defensive rebounds (vs. Las Vegas, 9/5)
2018 HIGHLIGHTS WITH ATLANTA:
Selected 15th overall by the Dream in the 2018 WNBA Draft

Appeared in 32 games and averaged 11.0 minutes per game in regular season

Averaged 2.8 rebounds per game with a 44.1 FG percentage

Scored a season high of 10 points and 5 total rebounds, against Washington (7/15)

Tied her career high of 6 rebounds three times
COLLEGE HIGHLIGHTS:
Two-time All-Pac-12 and two-time All-Defensive Team Honoree by coaches and media

Ranks first in UCLA history with 228 blocks

Ranks second in school history with 1,159 rebounds and 677 free throws attempted

Ranks fourth in UCLA history with 435 free throws made

Ranks ninth in career scoring at UCLA with 1,761 points

Became only the third player in UCLA history and the 14th in the Pac-12 to score over 1,500 points and grab over 1,000 rebounds

Averaged 12.5 points, 8.2 rebounds and 26.9 minutes per game during UCLA career

Started in 34 of 35 games played during the 2017-18 season

Posted double figures in 31 of 35 games during the 2017-18 season

Scored a career-high 30 points and a career-high tying six steals vs. Oregon in 2016-17 season

Recorded double figures in 32 of 34 games during 2016-17 season

Reached 1,000 point mark in her career in a home win vs. USC during 2016-17 season
PERSONAL:
Full name is Monique Charice Billings

Parents are Chuck and Jane Billings

Has one sister, Andrea

Hobbies include singing, modeling and thrift shopping

Majored in sociology