Lexi Held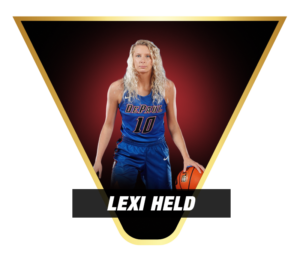 Height:

5' 10"


Position:

Combo Guard (1/2)


Nationality:

American

College:

DePaul

Lexi Held STATS
2022 – 2023 Norkopping Dolphins (Sweden)
19.7 ppg, 3.2 rpg, 3.6 apg, FGP: 38.8%, 3FG: 35.2%, FT: 81.3%
Lexi Held Scouting Report
Lexi has prototypical size for both guard positions. As a shooting guard, she is a three level scorer that can create her own shot against all sized defenders. As a point guard, she is very unselfish and makes the right play all the time. Her size allows her to bully small guards, but her quickness and ball-handling ability gives her an advantage against bigger players. Defensively, she sits down and really makes it tough on either guard position.
Profile
College Stats:
2021-2022: Depaul (Big East – D1 – Starting five) – 12.7 ppg, 2.3 rpg, 5.2 agp, FGP: 42.4%, 3PT: 38.6%, FT: 81.7%
2020-21: Depaul (Big East – D1 – Starting five) – 16.7 ppg, 3.2 rpg, 3.8 apg, FGP: 41.3%, 3PT: 33.3%, FT: 82.9%
2019-20: Depaul (Big East – D1 – Starting five) – 15.4 ppg, 2.7 rpg, 2.3 apg, FGP: 44.4%, 3PT: 35.6%, FT: 74.1%
2018-19: Depaul (Big East – D1 – Starting five) – 8.3 ppg, 1.3 rpg, 1.6 apg, FGP: 45.2%, 3PT: 39%, FT: 76%
Career: 2021-2022 SECOND TEAM ALL BIG EAST…..2020-21 All-BIG EAST First Team… BIG EAST Scholar-Athlete of the Year… DI ADA-AAA Scholar-Athlete Team… CoSIDA Academic All-District First Team… Citizen Naismith Trophy Watch List... 2019-20 All-BIG EAST Honorable Mention... BIG EAST Tournament Most Outstanding Player... 2019-20 BIG EAST Player of the Week... 2018-19 BIG EAST All-Freshman Team... BIG EAST Freshman of the Week (four times)... BIG EAST All-Academic Team... Shirley Becker Academic Award.
2020-21 (Junior): A dominant force at both ends of the court and also in the classroom, this poised clutch performer was among the leading scorers in the BIG EAST at 16.5 points a game while defensively finishing fifth in the nation in steals and eighth in steals per game… the junior from Burlington, Ky. led the BIG EAST in steals, steals per game and three-point attempts and was second in three-pointers and threes per game… she scored in double figures in every game except one when No. 1/3 Connecticut held her to nine points… Held scored 20 or more points six times led by her season-high 25 against Xavier in a conference game that also featured six assists and five steals… the creative scorer reached the 1,000-point career milestone in less than three years on Feb. 15 against Seton Hall and has a total of 1,160 points over three seasons… she was approaching triple-double territory at St. John's with 14 points, a career-high eight assists and six steals… Held finished with 20 points and a career-high seven steals vs. Butler and scored 17 points while duplicating the seven steals against Creighton... her long-distance accuracy led to 21 points at Providence while going 5-of-7 from behind the arc and 21 points and five steals vs. Chicago State knocking down 4-of-5 from deep.
2019-20 (Sophomore): Started 32 games averaging 27.3 minutes a game… scored in double figures 25 times with 20 or more points nine times…second in the BIG EAST in three-pointers… led the Blue Demons past Marquette in the BIG EAST tournament title game with a career-high 31 points on 10-of-14 shooting including 5-of-6 from three-point range… scored 26 points against Xavier and 25 points at Marquette… put up 23 points, five rebounds and four assists at Creighton… scored 22 points versus Seton Hall in the BIG EAST semifinals… finished with 21 points and eight boards against Villanova and 21 points with six steals against Seton Hall… notched 21 points at Green Bay.
2018-19 (Freshman): Played in 32 games and averaged 15.3 minutes... led the team in three-point shooting percentage... tied a career high with 28 points at Seton Hall... scored in double figures 13 times... made a career-high five three-pointers against Savannah State and scored 28 points.
High School: LaRosa's Athlete of the Year and Northern Kentucky Coaches Association Player of the Year scored more than 2,000 points in her career… finished with 2,430 points, 604 rebounds, 341 steals, 315 assists and 97 blocks… single-game scoring record of 36 points… she was also a Miss Kentucky Basketball finalist, Kentucky-Ohio All-Star MVP and Kentucky-Indiana All-Star Athlete… Kentucky Basketball Coaches Association Region Player of the Year… Greater Cincinnati Basketball Hall of Fame Player of the Year and also recipient of the Paul Claxton Free Throw Shooting Award.
Personal: Daughter of Rome and Monica… has a sister, Hannah Henderson… planning to major in Communications.