Kiersten Bell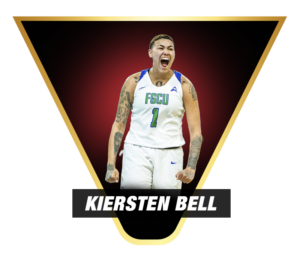 Height:

5' 11"


Position:

Small Forward (1)

Nationality:

American

College:

Texas A&M

Kierstan Bell 2020 – 2021 STATS
Las Vegas Aces (WNBA)
1.7 ppg, 1 rpg, FGP: 66.7%, 3FG: 23.1%, FT: 80%
Kiersten Bell Scouting Report
Kierstan is a fantastic outside/inside scorer.  With a quick release and range out to 25 feet, defenders must stay locked on to her a soon as she steps on the court. With a quick first step and strong build, she can blow past defenders and has the strength to finish with contact against bigger defenders. Defensively, she can guard positions 2-4.
Profile
2021-2022: FGCU (ASUN– D1 – Starting five) – 22.8 ppg, 7.3 rpg, 2.5agp, FGP: 47.1%, 3PT: 28.6%, FT: 70.2%
2020-21: FGCU (ASUN – D1 – Starting five) – 24.3 ppg, 10.6 rpg, 2.65apg, FGP: 52.7%, 3PT: 35.8%, FT: 75.3%
2019-20: Ohio State (Big Ten – D1 – Starting five) – 10.9 ppg, 4.4 rpg, 1.6 apg, FGP: 39.4%, 3PT: 31.8%, FT: 66.7%
Accolades: | 
Two-time WBCA Honorable Mention All-American
Associated Press Honorable Mention All-American
USBWA Honorable Mention All-American
Wade Trophy Midseason Watch List
Two-time Becky Hammon Mid-Major Player of the Year
Two-Time ASUN Player of the Year (unanimous)
ASUN Newcomer of the Year (unanimous)
Two- Time First Team All-ASUN (unanimous)
ASUN Tournament MVP
Two-Time ASUN All-Tournament Team
10-time ASUN Newcomer of the Week
2020-21 season:
Averaged 24.3 points, 10.6 rebounds, 2.7 assists, 1.9 steals and 2.3 blocks while producing the best season in program history and one of the best all-time in ASUN annals … Shot .527 (248-for-471) from the field, .358 (81-for-226) from long distance and .753 (55-for-73) from the foul line ... First player in conference history to be tabbed the ASUN Player and Newcomer of the Year in the same season … First player in program history to be tabbed a USBWA national player of the week (2/23) … Broke ASUN's all-time record with 10 newcomer of the week selections … Needed just 12 games to break FGCU's single-season record for double-doubles, ultimately finishing with 16 … Notched 25 double-digit scoring performances, including 20 with 20-plus, 12 with 25-plus and five with 30-plus … Pulled down 10-plus rebounds 17 times … Established new FGCU single-season records for total points, scoring average, field goals made and defensive rebounds per game … Led the ASUN in scoring, rebounding, field goals made and 3-point field goals made while finishing second in blocks and third in steals … 632 total points broke FGCU's single-season record and is the ninth-most in ASUN history, becoming the first player since Shanika Freeman in 2002-03 to eclipse 600 points … Notched sixth-best scoring average in conference history, which was also fourth-best in the nation … Totaled most 3-point field goals per game (3.115) in ASUN history while producing some of best statistical totals in conference history, including field goals made (10th, 248), 3-point field goals made (12th, 81) and blocks per game (28th, 2.3) … Finished among nation's top 10 in field goals made (3rd), 3-pointers attempted (4th), total points (6th), double-doubles (7th), 3-pointers made (8th) and 3-pointers made per game (10th) while also placing among the national leaders in field goal attempts (11th), total rebounds (14th), total blocks (19th), rebounds per game (28th), blocks per game (29th) and field goal percentage (33rd) … Became the first player in program history to record a 20-20 game while finishing with 24 points, 20 rebounds, three assists, three blocks and two steals in FGCU debut vs Davidson (11/30) ... Broke Gulf Coast Showcase's all-time single-game rebounding record in same game … Captured program's single-game scoring record with 42 points and 15 rebounds vs Jacksonville (2/21) … Registered 30 points, nine rebounds, seven assists, three steals and two blocks in ASUN championship game win over Liberty to earn tournament MVP recognition … 11 straight games with 20-plus points (1/29 - 3/5).
As A Freshman At Ohio State (2019-20) | 
Honorable Mention All-Big Ten
Big Ten All-Freshmen Team
Big Ten Freshman of the Week (12/9, 1/6, 1/13)
Averaged 10.9 points, 4.4 rebounds, 1.6 assists, 1.2 steals and nearly one block per game … Finished top five on the team in every significant category - second in points, third in rebounds, fourth in assists, second in steals and fourth in blocks … Led OSU in 3-point field goals (56), which was also ninth-most in the Big Ten … Tallied 19 games with 10-plus points … 14 points in win over No. 2 Louisville (12/5) … 16 points, 12 rebounds and four blocks vs Nebraska (2/2) … 16 points vs UConn (11/24) … 20 points, 10 rebounds, six assists vs Wisconsin (2/9) … 16 points in win over No. 19 Iowa in Big Ten quarterfinals (3/6) … Posted a pair of double-doubles.
High School
2019 graduate of Canton McKinley H.S. in Canton, Ohio … Five-star recruit … No. 8 ranked player nationally by ESPN HoopGurlz … No. 18 ranked player nationally by ProspectsNation.com … McDonald's All-American … First female in the history of Ohio high school basketball to be a three-time Ms. Basketball … Finished as the fourth-leading prep scorer in the history of Ohio at 2,833 points, eclipsing legends like Katie Smith and Semeka Randall … Broke Stark County career scoring record previously held by Ameryst Alston … Four-time First Team All-Ohio … Named Ohio Gatorade Player of the Year after averaging 27 points, 7.9 rebounds, 4.4 blocks, 3.8 steals and three assists as a senior … Averaged 33.3 points, 9.6 rebounds, five steals, 3.9 assists and 2.5 blocks per game while shooting .527 from the field as a junior … Became the first sophomore to be named Ohio's Ms. Basketball in 2017 after averaging 26.2 points, 8.9 rebounds, 4.2 steals, three assists and 2.3 blocks while leading her team to the state semifinals … Averaged 21 points, 9.8 rebounds, three assists, 2.8 steals and 1.2 blocks as a freshman … Led Canton McKinley to a 93-14 record in her career, finishing with 105 double-figure scoring games and setting 35 school records, including career rebounds (960) and career steals (437) … Competed in the Jordan Brand Classic in Las Vegas … Third Team Naismith High School All-American … Scored 38 points in front of LeBron James as a junior during a 69-57 win over Jackson, a team led by Taylor Mikesell.
Personal
Born March 16, 2000 … Daughter of Perry Bell and Amanda Hubbs … Has one sibling, Sa'renity … Undeclared major.