Khayla Pointer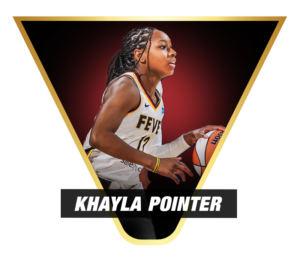 Height:

5' 7" (1.70 m)

Position:

 Combo Guard (1/2)

Nationality:

American

College:

LSU
Khayla Pointer Scouting Report
Khayla Pointer is an Allen Iverson-type combo guard.  This big-game player shows up best in big games; whether she needs to make a game winning three, a game-saving block or a game winning steal, she has always made the big play. This vocal-leader, is often the best player on the floor offensively and defensively.  Khayla is a great rebounder as a guard, similar, to Courtney Williams.
Profile
2021-2022: LSU (SEC – D1 – Starting five) – 19.6 ppg, 6.4 rpg, 5.3 agp, FGP: 41.9%, 3PT: 36.2%, FT: 65.6%
2020-21: LSU (SEC– D1 – Starting five) – 16.9 ppg, 4.1 rpg, 4.1 apg, FGP: 39.4%, 3PT: 33.3%, FT: 60.5%
2019-20: LSU (SEC – D1 – Starting five) – 14.8ppg, 4 rpg, 4.7apg, FGP: 41.4%, 3PT: 28.6%, FT: 72.5%
2018-19:  LSU (SEC – D1 – Starting five) – 12.5 ppg, 4 rpg, 4.5apg, FGP: 43.6%, 3PT: 33.3%, FT: 62.8%
Awards/Accolades:
Indiana Fever guard (WNBA)
2022: Second Round pick of the Las Vegas Aces (#13 overall)
2020 Offensive Player of the Year
2020-21 SEC Winter Honor Roll
2020-21 Louisiana Player of the Year
2020-21 Preseason Coaches All-SEC First Team
2021 All-SEC First Team
2021 All-SEC Defensive Team
2021 USA Women's AmeriCup Invitee
2022 All-SEC First Team
2022 Sports Illustrated All-America Second Team
2022 AP All-America Second Team
Finished her career as one of the best to ever wear an LSU uniform… The only player in men's or women's history at LSU to have at least 1,500 points, 500 rebounds and 500 assists in a career… Pointer finished her career with 1,934 points, 599 assists and 573 rebounds… At the end of her career, Pointer ranked No. 2 on LSU's all-time assists list, No. 6 on LSU's scoring list and No. 21 on LSU's all-time rebound list… Her 672 career field-goals made ranks No. 8 in LSU history.
Graduate Season (2021-22)
Played as one of the best guards across America, being named a top-five finalist for the Nancy Lieberman Point Guard Award and being named to the All-SEC First Team as well as to multiple All-America Teams (AP and Sports Illustrated Second Team; USBWA Third Team)… Was also named to the Naismith Trophy Watchlist, the Wooden Award National Ballot, the Wade Trophy Watchlist and the Dawn Staley Award Watchlist… Set new career-highs with 19.6 points per game, 6.4 rebounds per game and 5.3 assists per game… Started in all 32 of LSU's games and showed durability, leading the SEC with 37.0 minutes played per game… In 13 games, Pointer never saw the bench, including in LSU's overtime win over Missouri where she played all 45 minutes and hit the game winner… Was one of two SEC players to finish in the Top-20 in scoring and rebounding and the Top-15 in assists; Pointer ranked No. 2 in scoring, No. 2 in assists and No. 17 in rebounding in the SEC… Led an LSU offensive attack that led the SEC in scoring with 73.72 points per game and had the second best scoring margin in the conference at +12.09… Finished her final season with seven double-doubles, including two triple-doubles… Pointer became one of five players in SEC history to record multiple triple-doubles… Earned her first triple-double in the season opener against Nicholls with 16 points, 13 assists and 11 rebound and then had her second at Ole Miss on Feb. 7 with 16 points, 11 rebounds and 10 assists… Scored in double-figures in 29 games during the season and eclipsed 20 points in 17 games… Had a stretch of 16 straight games where she scored in double-figures… Put up a career-high 35 points in LSU's loss at Florida on Jan. 23, becoming the first LSU player since Seimone Augustus to score 35 in a game who also reached that total in a loss at Florida in 2006… Shined bright in big moments, hitting game-winners at Georgia, in overtime against Missouri and in the first round of the NCAA Tournament against Jackson State… Pointer hit two threes in the final minutes at Georgia on Dec. 30 to lead the Tigers to victory in their first game of the SEC schedule… With 5.7 seconds left in overtime against Missouri, Pointer slashed down the lane and laid in the game-winner… After LSU trailed by 10 with 4:54 remaining against Jackson St. in the first-round of the NCAA Tournament, with the game tied Pointer hit a three with 49 seconds remaining to put LSU on top for good… Pointer was key in LSU's late comeback against Jackson St., scoring eight points, earning two steals, dishing out two assists and grabbing four rebounds in the game's final four minutes… Finished the Jackson St. game with 26 points, 9 rebounds, 8 assists and four steals, becoming the first player over the past 20 years to have at least 25 points, 8 rebounds, 8 assists and 4 steal in the men's or women's NCAA Tournament… In LSU's three postseason games, Pointer averaged 28.3 points and scored at least 26 in all three of the games.
SENIOR SEASON (2020-21)
Was the 34th player in program history to reach 1,000 career points in her game against Loyola Marymount on December 20… Currently No. 21 on the LSU career scoring list with 1,306 points and fifth on the LSU career assists list with 431… Finished the season with a total of 372 points, 90 assists, 90 rebounds, 29 3-pointers, 124 made field goals, 55 steals and over 50% from the line… Had a season high 27 points against Florida on February 11… Averaged 16.9 points per game… Played 804 minutes – the most of any player… Named to 2021 All-SEC First Team and Defensive Team… Earned Louisiana Player of the Year honors.
JUNIOR SEASON (2019-20) – Season cut short due to coronavirus 
Started in 29 of 30 games…One of six players to play in all 30 games with a team-leading 32.7 minutes per game (8th in the SEC)… Leading scorer with 14.8 points per game, ranking 10th in the SEC… Led team with 144 assists and 64 steals; was 3rd in SEC with 4.8 assists per game and 5th with 2.07 steals per game… Posted a 1.73 assist/turnover ratio that ranked 7th in SEC… Was 10th in the SEC in free throw percentage (71.6%)… Scored a career-high 30 points and career-best 11 rebounds at Florida Gulf Coast on December 19… Had a second double-double game with 24 points and 10 rebounds against Tennessee on February 13… Played in three consecutive complete games against Texas A&M (February 2), Missouri (February 10) and Tennessee (February 13)… Recorded seven games of 20 or more points and 15 games of five or more assists during the season… Dished out a season-high 10 assists at Texas A&M on January 9… Grabbed a career-high five steals against Alabama on January 2… Named SEC Player of the Week on February 4… Named Louisiana Player of the Week – February 4, February 18… Named Most Valuable Player and All-Tournament Team in the Junkanoo Jam Bimii Division.
SOPHOMORE SEASON (2018-19)
Started in all 29 games, averaging a total 31.7 minutes played per game… One of two players to start every game… Scored 12.5 points per game and led the team with 131 assists and 48 steals… Recorded a career-high 26 points versus Alabama on January 20… Had one double-double game with 12 points and career-high 12 assists against McNeese on December 11… Grabbed a career-high eight rebounds versus Little Rock on November 25… Played back-to-back complete games at Alabama on January 20 and at Tennessee on January 27.
FRESHMAN SEASON (2017-18)
Played in all 29 games as a freshman… Scored 4.4 points per game… Third on the team with 66 assists and fourth with 26 steals… Scored a season-high 17 points at Florida on January 14… Grabbed a season-high five rebounds twice – at Florida on January 14 and at Texas A&M on January 22… Dished out a season-high six assists at home against Auburn on January 18… Shot 71.9 percent from the free throw line.
HIGH SCHOOL (2013-17)
Named 2017 MaxPreps All-America honorable mention… Led Holy Innocents to state runner-up finish in senior year and state crown as a junior… Named Atlanta Journal-Constitution All-State selection four times, First Team in 2015 and 2017… As a junior, averaged 15.2 points, six rebounds, 6.1 assists and 7.1 steals per game… Brought a regional championship and 31-1 record home her sophomore year, while averaging 14.7 points, 5.4 rebounds, 4.6 assists and 3.4 steals… Honored as the AJC North Fulton Player of the Year… Earned Second Team All-State as a freshman… Played club ball for Team Pointer Elite and was named MVP of the Holiday Hoopsgiving Tournament.
PERSONAL
Daughter of Simone Pointer and the late Kirk Pointer… Has a brother, Joshua… Born on November 25, 1998… Full name is Khayla Nicole Pointer… Earned her degree in Sport Administration in Spring 2021.