Jordan Horston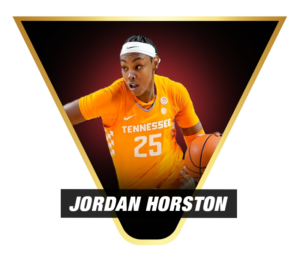 Height:

6' 2"


Position:

 Point/Shooting Guard/Small Forward (1-3)

Nationality:

American

College:

Tennessee
Scouting Report
Jordan Horston is the epitome of versatility. She can seamlessly slide from positions 1-3, and at 6'2, she can even play the 4 in a small ball situation.  She is extremely unselfish and finds ways to impact the game on both ends of the floor. She is a nightmare to guard in transition and presents an immediate mismatch every night. Defensively, she can guard positions 1-4 equally well and her size allows her to get her hands on a lot of balls and start the break!
Profile
2022-2023: Tennessee (SEC – D1 – Starting 5) – 15.6 ppg, 7.1 rpg,  3.3 apg, FGP: 43.8%, 3PT: 27.8%, FT: 73.9%
2021-2022: Tennessee (SEC – D1 – Staring 5) – 16.2 ppg, 9.2 rpg, 4 apg, FGP: 37.9%, 3PT: 27.6%, FT: 67.8%
CAREER HONORS
CAREER HIGHLIGHTS
Finished her career with 1,445 points, 731 rebounds, 455 assists, 163 steals and 109 blocks while starting 91 of 114 games.
Tallied the No. 29 all-time point total by a Lady Vol and is one of only two players to record 1,000 points, 700 rebounds and 400 assists during a career. Alexis Hornbuckle (2004-08) is the other, tallying 1,333, 740 and 503, respectively.
Stands No. 1 among all true guards at Tennessee with 21 career double-doubles, including eight in 2022-23.
Finished No. 7 at Tennessee in both career assists (455) and career assist average (3.99).
Ranks No. 8 in career 20-plus point scoring efforts with 17.
Joined Dawn Marsh (1984-88) as the only UT players to lead the program in assist average all four years of their careers.
Averaged 9.39 rebounds in 2021-22, a mark that ranks No. 6 all-time by a Lady Vol and No. 3 by a Tennessee junior.
2022-23 - SENIOR
Started 33 of 35 games as a senior after bouncing back in strong fashion from a season-ending injury as a junior.
Was second on the team in scoring average (15.6 ppg.) and first in rebounds (7.1), assists (3.3), steals (1.6) and blocks (1.1) for those playing the entire season.
Shot a career-best 43.8 percent from the field and 73.9 percent from the free throw line and tallied career highs in blocks (38) and steals (55).
Averaged 18.9 ppg., 8.7 rpg., 2.1 apg. vs. 10 ranked opponents in 2022-23 with five double-doubles and three 20+ efforts, pushing her two-year averages to 19.7 ppg., 9.5 rpg. and 2.9 apg. over 16 contests from 2021-23.
Put up 19.0 ppg. and 8.7 rpg. in the league tourney to make the All-SEC Tournament Team for the first time in her career.
Led Tennessee at 16.0 ppg., 6.7 rpg. and 3.3 apg. in three NCAA Tournament games while shooting 46.3 percent from the field and 80.0 percent at the charity stripe.
Had a season-high-tying 27 points and added seven rebounds vs. No. 5/4 UConn on Jan. 26.
Produced a season-high 27 points and 14 rebounds in a home win over Mississippi State.
Turned in 26 points and 11 rebounds vs. No. 9 Virginia Tech.
Put together 23 points, eight rebounds, four assists and four steals in an 18-point win over Colorado.
Closed the regular season with 21 points, seven rebounds, seven assists and seven blocks at Kentucky.
Opened the campaign with 20 points and 13 rebounds vs. No. 14/15 Ohio State in her hometown of Columbus.
At No. 2 Stanford, she led the team in all categories with 19 points, 10 rebounds, four steals and three assists.
Contributed 17 points and 10 rebounds as the Lady Vols knocked off No. 4/3 LSU in the SEC Tournament semifinals.
Carded 14 points and 11 rebounds vs. No. 1/1 South Carolina
With 14 points against Eastern Kentucky, she moved her career total to 1,004, becoming just the 48th UT player to amass 1,000 in a career.
2021-22 - JUNIOR
Played in 23 games, starting all 23 before her season ended with a fractured dislocation of her left elbow at Alabama on Feb. 17.
Scored in double figures in 19 contests, including seven games when she racked up 20 or more points.
Led Tennessee in scoring (16.2), rebounding (9.4), assists (4.0) and steals (1.4) and was second in blocked shots (1.0).
Ranked third in the SEC by average in rebounding, eighth in scoring and eighth in assists.
Her rebound average is the third-best ever recorded by a junior in Lady Vol history and ties for the best-ever at UT by a true guard with Shelia Collins (1984-85).
Her assist average tied as the seventh best all-time among UT juniors with Alexis Hornbuckle.
She now stands No. 6 on UT's career list with a 4.28 assist-per-game average.
Recorded 12 double-doubles, tying for third in the SEC and tying for third with Glory Johnson among all-time Lady Vol juniors.
Reached another level vs. ranked opponents, averaging 20.7 ppg., 10.7 rpg., and 4.0 apg.
Produced 16.3 ppg., 9.5 rbg. and 4.1 apg. against SEC opponents, including seven double-doubles.
Finished with career bests in points (28) and rebounds (15) to lead UT to a comeback win against No. 12/21 Texas.
Had 15 points in the fourth quarter and overtime vs. the Longhorns on 6-of-10 shooting to erase a double-digit deficit.
Scored a game-high 26 points and grabbed eight rebounds vs. No. 10/9 UConn in Hartford.
Tallied 12 of her 24 points in the fourth quarter of UT's comeback win vs. No. 23/22 South Florida, including the go ahead and-1 with 39 seconds left.
Led Tennessee with 24 points and 11 rebounds in an overtime home win over Arkansas.
Managed her seventh 20+ effort of the season, posting 21 points and 13 rebounds in a triumph over Missouri.
Paced UT in scoring with 21 points and added eight rebounds vs. Auburn.
Helped her squad pick up a huge road win against No. 13/13 Georgia, tallying 19 points, 11 rebounds, five blocks and four assists.
Had 14 point and 11 rebounds vs. Kansas, and 17 points, nine boards and nine assists vs. Oklahoma State, as UT went 2-0 and she earned South Point Thanksgiving Shootout Most Outstanding Player honors..
2020-21 - SOPHOMORE
Averaged 8.6 ppg., 4.2 apg., 3.9 rpg., and 1.4 spg. while starting 13 of 25 games as a sophomore in 2020-21.
Came off the bench the first four games, started the next 13 and then settled into a role as a key reserve the rest of the way.
Improved her free-throw percentage from 59.3 as a freshman to 72.9 as a sophomore.
Her 4.2 apg. number tied for third in the SEC, and she was the only non-upperclass performer within the top 13.
Dished out 4.7 apg. in SEC play, ranking second among league performers and was the only non-upperclass player in the top 15.
Scored in double figures 14 times in 2020-21 after only doing so five times as a freshman. Hit for 10 or more in four of her last five games a year ago.
Cut her turnovers from 4.32 per game as a freshman to 2.72 in year two.
Scored a season-high 14 points, dished out seven assists and pulled down six rebounds while hitting 6-of-10 shots in the road win over Alabama.
Played well in UT's overtime road loss at West Virginia, firing in 13 points and carding five rebounds, five assists, three steals and two blocks in 33 minutes.
Also tallied 13 points in victories at No. 15 Indiana and vs. Ole Miss during the regular season.
Passed 100 assists for the season against Middle Tennessee, dropping six dimes while scoring six points and grabbing six rebounds in the NCAA First Round.
Tallied 10 points in the NCAA Second Round vs. Michigan and added three boards, two blocks, an assist and steal.
Led UT in scoring with 11 points against South Carolina in the SEC Tournament while blocking a season-high three shots.
Turned in 12 points and a career-high-tying nine assists against Auburn.
Had 12 points, five rebounds and five assists without a single turnover in UT's win over No. 2/3 South Carolina.
Finished with 11 points, seven rebounds and three assists at No. 20/18 Kentucky.
Was in double digits for the third-straight game against Georgia, logging 11 points, four assists and four steals.
Played 34 minutes against Arkansas, logging 11 points, eight rebounds, five assists and two blocked shots.
Notched 12 points, including a three-quarter court, first-period buzzer beater vs. Ole Miss in the SEC Tournament.
2019-20 - FRESHMAN
SEC All-Freshman Team member averaged 10.1 ppg., 5.5 rpg., 4.6 apg. and 1.3 spg., starting 22 of 31 games in 2019-20.
Ranked first on the team in assists (143) and steals (39), second in blocks (25) and three-pointers made (27), and third in points scored (313) and rebounds (170).
Scored in double figures 15 times and led UT in assists on 21 occasions, tallying five or more dimes 17 times.
Her 143 assists and 4.6 assist average both ranked second all-time among freshmen at Tennessee.
Was fifth and fourth, respectively, among all SEC players in those categories in 2019-20 and first among freshmen.
After one season on Rocky Top, Horston's 4.6 assist average ranked fourth on UT's career list.
Closed the season by scoring a career-high 24 points against Kentucky in the SEC Tournament Quarterfinals.
Matched her career high with four three-pointers in seven attempts in that contest vs. the Wildcats.
Drained eight of 12 field goal attempts in netting 20 points to go along with five assists and four boards at Portland State.
Went seven of nine from the field to pace UT vs. Central Arkansas with 17 points, five rebounds and three assists in her first career start.
Named SEC Freshman of the Week after averaging 14 points, 6.0 rebounds, 4.5 assists, 3.5 blocks and a steal against Florida and Alabama.
Had 19 points in the Bama game and added eight boards, four assists, a career-best four blocks and a steal.
Was UT's second-highest scorer at #15/14 Notre Dame, tallying 12 points, seven rebounds, five assists and a team-high four steals.
Recorded the first double-double of her career, producing 10 points, a career-high 14 rebounds and seven assists vs. Colorado State.
Narrowly missed a double-double at #13/13 Kentucky, finishing with 13 points and a career-high nine assists.
Poured in 16 points in a home win over Vanderbilt, adding four rebounds and five assists.
Scored 14 points while dishing out seven assists and grabbing six rebounds against Georgia.
Posted 13 points, five rebounds and two assists in her SEC debut against Missouri.
Chipped in 12 points, seven rebounds and three assists against #8/8 Mississippi State.
Hit a game-winning runner to lift UT to victory at Auburn.
USA/SUMMER BASKETBALL
Member of gold-medal winning USA U17 National Team and MVP of 2018 FIBA U17 World Cup in Minsk, Belarus.
Helped the 2017 USA U16 National Team capture the FIBA Americas U16 Championship gold medal with a perfect 5-0 record in Buenos Aires, Argentina.
Played summer ball for All Ohio Girls Basketball.
HIGH SCHOOL
No. 2 overall player, No. 1 guard, five-star recruit by espnW HoopGurlz.
No. 2 overall player, No. 1 guard, five-star recruit by ProspectsNation.com.
No. 2 overall player in Dan Olson College Girls' Basketball Report.
Named MVP of the McDonald's All-American Game (2019).
Participated in the Jordan Brand Classic and Jump 25 Ohio All-Star Classic (2019).
WBCA All-American (2019).
Naismith First-Team All-American (2019).
Naismith Trophy Finalist (2019).
Gatorade Ohio Player of the Year (2019).
USA Today First-Team Ohio (2018, 2019).
Ohio High School Coaches Association MVP (2019).
Jump 25 Ohio Player of the Year (2019).
Division III Ohio Player of the Year (2018, 2019).
Division III All-State First Team (2018, 2019).
Division III All-State Second Team (2016, 2017).
Columbus Dispatch All-Metro Co-Player of the Year (2019).
Columbus Dispatch All-Metro Team (2017, 2018, 2019).
All-Columbus City League First Team (2016, 2017, 2018, 2019).
Africentric Early College won three state titles during her career (2016, 2018, 2019).
Career highs include 39 points, 16 assists and 10 rebounds.
As a senior in 2018-19, she averaged 18.0 points, 7.0 rebounds and 6.0 assists.
While still recovering from a 102-degree fever the day before, she tallied 15 points, 10 rebounds and six assists in the 2019 state title game victory.
Tallied 17 points, 17 assists and 10 points in a triple-double effort vs. Eastmoor Academy as a senior.
As a junior in 2017-18, started in all 30 games and averaged 18.1 ppg., 5.8 rpg., 4.5 apg., 5.1 spg. and 1.7 bpg. to help her team to a 27-3 record, the City League title and a state championship.
PERSONAL
Full name is Jordan Lynn Horston.
Nickname is Jordy.
Born on May, 21, 2001, in Dallas, Texas.
Parents are Leigh and Malika Horston.
Has one sister: Jazmin Horston.
Jordan grew six inches during her freshman year of high school.
Can play the drums and cymbals.
Her dad played basketball at Capital University.
Great uncle is the late Joe Gilliam, who played quarterback at Tennessee State University and with the Pittsburgh Steelers.
Her cousin, Sylvia Crawley, played basketball at North Carolina, for USA Basketball and in the WNBA.
Participated in Columbus State dual credit program for four semesters while in high school.
Also participated in cross country, softball and tennis in high school.
Majoring in communication studies.
Recipient of the Marion D. Hoppe Winners' Circle Scholarship for Off Guards.