Jessica Shepard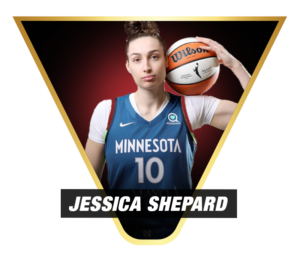 Height:

6' 3" (1.90m)

Position:

Power

Forward (4)

Nationality:

American

College:

 Notre Dame
Jessica Shepard STATS
2022-23: Umana Reyer Venezia
20.4 ppg, 10.2 rpg, 3.2 apg FGP: 61.1%, 3PT: 30.8%, FT: 72.4%
2022: Minnesota Lynx (WNBA)
8.1 ppg, 7.4 rpg, 3 apg, FGP: 53.1%, 3PT: 25%, FT: 73.4%
2021-22: Dinamo Sassari
29.2 ppg, 17.5 rpg, 2.8 apg, FGP: 51.5%, 3PT: 51.4%, FT: 81%
2021: Atlanta Dream (WNBA)
6.3 ppg, 1.6 rpg, 2 apg, FGP: 32.2%, 3PT: 30.8%, FT: 88.2%
Scouting Report
Jessica Shepard is one of the most skilled and versatile bigs in all of basketball. Her ability to consistently score from the post, shoot the mid-range with ease, dominate the boards and pass like a guard makes her one of the most valuable assets in basketball. Defensively, she can guard positions 4 and 5, as well as switch out onto guards and pick and roll situations.
Profile
CAREER HONORS
2018-19:
• AP 2nd Team All-American
• NCAA Chicago All-Regional Team
• Wooden Award National Ballot
• ACC All-Tournament Team
• First Team All-ACC
• Katrina McClain Award Top 10
• Naismith Trophy Midseason Team
• Wooden Award Late Season Top 20
• Wooden Award Midseason Top 25
• 2019 Katrina McClain Watch List
• Wooden Award Watch List
• Naismith Trophy Watch List
• Wade Trophy Watch List
• Preseason All-ACC honoree
2017-18:
• All-Final Four Team
• First Team All-ACC
• All-ACC Tournament Second Team
• Naismith Trophy Watch List
• Two-time ACC Player of the Week
2016-17:
• Ann Meyers Drysdale USBWA Midseason National Player of the Year Midseason Watch List
• Naismith Trophy Midseason Top 30
• Second-Team All-Big Ten
• Preseason All-Big Ten
• Nebraska Scholar-Athlete Honor Roll
2015-16:
• First-Team All-Big Ten (2016)
• Big Ten Freshman of the Year (2016)
• Big Ten All-Freshman Team (2016)
• USBWA National Freshman of the Week (Dec. 22, 2015; Jan. 26)
• NCAA.com Starting Five (Dec. 23, 2015; Jan. 27, 2016)
• espnW National Player of the Week (Jan. 25)
• College Sports Madness National Player of the Week (Jan. 25)
• Big Ten Player of the Week (Dec. 21, 2015; Jan. 25, 2016)
• 10-Time Big Ten Freshman of the Week (conference record)
• Nebraska Athletics Female Newcomer of the Year (All Sports)
• Nebraska Offensive Player of the Year
CAREER HIGHS
Pts: 39 (vs DePaul, 12/17/17)
Rebs: 20 (vs Michigan, 1/24/16)
FGM: 17 (vs DePaul, 12/17/17)
FGA: 27 (vs Ohio State, 2/16/17)
3FGM: 2, 8x (last vs Illinois, 3/1/17)
3FGA: 6 (vs Illinois, 1/15/17)
FTM: 11, 2x (last vs FSU, 3/3/18)
FTA: 20, 2x (last vs Michigan State, 2/26/17)
Ast: 7, 3x (last vs UConn, 4/5/19)
Blk: 6 (at Penn, 12/9/17)
Stl: 5 (vs Clemson, 1/21/18)
Min: 43 (vs UConn, 3/30/18)
MISCELLANEOUS
Double-figure scoring games: 119
20-point games: 45
30-point games: 5
Double-figure rebound games: 61
Double-doubles: 59
SENIOR SEASON (2018-19)
Selected 16th overall in the 2019 WNBA Draft by the Minnesota Lynx. The Irish became the first program in which all five starters were selected within the top 20 picks.
Was part of the most prolific scoring starting five in the history of NCAA Division I women's basketball, helping amass a total of 10,230 points.
NCAA Tournament: Averaged 17.8 points, 12.2 rebounds & 4.2 assists. Shot 53.9 percent.
19 double-doubles – tied Natalie Achonwa for most in a season. Her 34 double-doubles at ND ranks 4th all-time.  Her 59 career total ranked in top 10 among active Division I players.
Recorded 11 double-doubles over the last 14 games — 4 of her last 6 double-doubles have all been with 20-plus points. Side note – Shepard achieved 4 double-doubles for 2018 NCAA Championship run and topped it this year with five.
Three double-doubles of 15+ points, 15+ rebounds.  Six double-doubles with 20+ points.
Achieved the 2,000 career points / 1,000 career rebounds milestone on Jan. 27 at UNC. Shepard is 1-of-10 active Division 1 players who reached the milestone.  She finished with 2,340 points & 1,248 rebounds.
Finished on a career best 23 straight games with double-digit points.
With 698 rebounds at ND, Shepard has recorded the most in program history over a player's junior and senior years. Dev Peters held the previous record with 656 as an upperclassman.
Season high 30-point, 13-rebound, double-double in the ACC title game vs UL (3/10). Led Irish over ACC Tournament with 20.0 ppg & 10.3 rpg.
1-of-5 Division I players who averaged over 16 points, 10 rebounds and 3 assists.
Only player to rank in Top 15 in 8 different stat categories in ACC play only: 9th in Scoring (16.5), 3rd in Rebounds (10.0), 2nd in FG% (.597), 13th in Assists (3.5), 6th in FT% (.831), 12th in A/TO Ratio (1.4), 2nd in Offensive Rebounds (3.7) and 5th in Defensive Rebounds (6.3).
Dating from her last shot at Toledo and into the start of the Marquette game, Shepard made 17 consecutive field goals which tied Carey Poor's ND record set back in 1994. Shepard went a perfect 8-for-8 from the field vs Binghamton (12/16), becoming the first Irish player to go 8-for-8 or better in a game since Taya Reimer (8-8) vs Louisville on Feb. 23, 2015.
Earned a 15-point, 18-rebound, double-double at Marquette (12/22), as the latter ranked as her highest rebound total in an Irish uniform and just two shy of her career high set at Nebraska.
Considered one of the top outlet passers in the country and the anchor behind ND's strong transition game.
Recorded the most rebounds (390) and highest average (10.3) in a season. Also finished with the program's highest career rebounding average with 9.2.
Shot 58.0 percent from the field at ND, which ranks sixth all-time.
JUNIOR SEASON (2017-18)
• Started 37-of-38 games. Her 15.6 points per game ranked second on the team and 11th in the ACC. Her .565 shooting percentage ranked fourth in the ACC and 27th in the nation.
• Her 244 total made field goals ranked 28th in the nation and 10th all-time at ND. Her 308 total rebounds ranked fourth most in a single season at ND.
• In NCAA Tournament: Averaged 19.0 points on 58.1 percent shooting (50-86). Nearly averaged a double-double with 9.3 rebounds per game. Averaged 17.0 ppg during Final Four. Her 62.5 percent shooting during the Final Four tied for fourth best all-time with Paula McGee of USC from 1983 and was the best since UConn's Tina Charles in 2009.
• Led the team in scoring in the national title game vs Miss State, scoring 19 points on 8-of-10 shooting. Her 80 percent shooting ranked as third best all-time in an NCAA Title game.
• Recorded six double-doubles in the last eight games. Shepard became the first Irish player since Jacqueline Batteast in Jan. of 2002 to record five straight double-doubles, doing so from March 3 vs FSU to March 24 vs Texas A&M. Was one board shy vs Oregon from making it six straight, which would have been a program record.
• Totaled 15 double-doubles, which tied for second most in the ACC, ranked 36th in the nation and third most in a single season at Notre Dame. In perspective, Shepard tallied 25 double-doubles in two years at Nebraska.
• Led the Irish in rebounding 21 times. Her 8.1 rebounds/game ranked 7th in the ACC. Her 3.1 offensive boards per game ranked fifth while her 5.0 defensive boards per game ranked eighth – both of which lead the team.
• Named ACC Player of the Week (12/18) after the most dominant outing of her career vs DePaul on Dec. 17. Shepard notched 11 rebounds and a career high 39 points, setting a new Purcell Pavilion women's scoring record. It also stood as the fourth highest individual point total in program history. Her 17 made field goals not only set a new Purcell record and stood as the second most overall, but also ranked as the most by an ACC player this season. Shepard's 39 points were the second most among all ACC players at the end of regulation (40 min) this season.
• Ended the year with a season best nine-straight games in double figures. All-in-all, notched 32 games in double figures and seven of 20-plus.
• Scored 13 points in the first quarter at Pitt. Midway through the first half, Shepard recorded a stretch in which she scored 15 of Notre Dame's next 17 points. Shepard's 28 points were the most in a road game this season.
• Reached double-digit points in the first quarter six different times.
• Earned a career best six blocks at Penn on Dec. 9, doubling her original personal best set back on Dec. 3, 2015, vs NC State. The six-block performance also tied for the most by an ACC player this season.
• Vs ETSU on Nov. 24 – Became the first Irish player to lead the team in points (15), rebounds (11) and assists (3) since Jewell Loyd vs Maryland on Dec. 3. 2014.
NEBRASKA – SOPHOMORE SEASON (2016-17)
• Started all 29 games as a sophomore
• Finished with 58 starts in 60 career games.
• Hit 40.8 percent (206-505) of her field goal attempts in 2016-17, and knocked down 28-of-89 three-pointers (.315)
• Averaged 18.6 points and 9.8 rebounds per game
• Ranked 10th in the Big Ten in scoring and fourth in the conference in rebounding. Her 7.4 defensive boards per game ranked second in the Big Ten, while her 15 double-doubles on the year ranked third in the conference
• Completed her two-year Nebraska career with 1,112 points and 550 rebounds. Her two-year scoring total was the highest by a Husker in history in her freshman and sophomore seasons combined
• Finished her two seasons with 25 double-doubles, which tied for the fifth-highest career total in school history
• Recorded a season-high 32 points to go along with 11 rebounds in Nebraska's regular-season home finale against Michigan State (Feb. 26). Shepard's effort helped the Huskers to a 76-74 win over the Spartans when she played a career-high 42 minutes. She also tied her own school record with 20 free throw attempts against MSU, making 10 of the attempts
• Closed her Husker career with 16 points and 10 rebounds for her 15th double-double of the year in an opening-round loss to Illinois at the Big Ten Tournament in Indianapolis
NEBRASKA – FRESHMAN SEASON (2015-16)
• Led the Huskers with freshman school-record averages of 18.5 points and 8.6 rebounds per game
• Was the first Husker in history to earn first-team all-conference honors as a freshman
• Shattered the Nebraska freshman scoring record with 574 points, and finished second in school history among freshman with 266 rebounds. She also set an NU freshman record with 10 double-doubles.
• Claimed a conference record 10 Big Ten Freshman-of-the-Week awards.
• Produced one of the best efforts in school history with a freshman-record-tying 35 points and a career-high 20 rebounds at Michigan on Jan. 24. It was the first 30-point, 20-rebound game in Nebraska history.
• Scored 20 or more points 16 times and achieved 25 double-figure scoring games. Also tallied 10 double-digit rebound games
• Scored a Nebraska freshman record 35 points and set a school record with 20 free throw attempts against Northern Arizona Dec. 19.
• Reached 100 points faster than any player in Husker history, achieving the mark with 10 points in her fifth game at UConn on Nov. 28, 2015
• Eclipsed the 200-point mark faster than any other Husker as well, reaching the mark in her 11th game when she scored 19 points in a win over Arkansas State on Dec. 21.
• Off the court, Shepard earned a spot on the Nebraska Scholar-Athlete Honor Roll and was named to the Tom Osborne Citizenship Team.
HIGH SCHOOL
• Played just nine games as a senior at Fremont High School before suffering a torn ACL at Lincoln North Star on Dec. 29, 2014.
• Averaged 33.0 points and 14.3 rebounds per game, including 132 points in four games at the Nike Tournament of Champions in December.
• Erupted for 36 points against national power Long Beach Poly.
• Shot 71 percent from the field, including 41 percent from long range.
• Despite missing most of her senior season, Shepard finished fourth in Nebraska high school history with 2,227 career points, which was the Class A (largest) all-time record. She also finished No. 15 in state history with 1,031 rebounds, just 16 shy of the Nebraska Class A career record.
• Shepard's 780 points in 2014 and 664 points in 2013 are the two highest single-season totals by a Class A player in state history.
• As a junior in 2013-14, Shepard averaged a Class A state record 30.4 points per game to go along with 15.6 rebounds and 2.4 assists in leading Fremont to a 22-4 record and a state tournament berth for Coach Tony Weinandt. Her performances included four 40-point games, including a career-high 46.
• Averaged 24.6 points, 11.1 rebounds, 2.5 assists, 2.0 blocks and 1.8 steals per game as a sophomore to power Lincoln Southeast to the 2013 Class A state title.
• Averaged 17.8 points and 9.1 rebounds in leading Southeast to a state runner-up finish.
• Earned a spot on the Nebraska Scholar-Athlete Honor Roll in the fall of 2015 and 2016. She was also a member of the Tom Osborne Citizenship Team in 2016 and 2017.
PREP AWARDS/HONORS
• Naismith Trophy High School National Player-of-the-Year candidate
• 2015 Naismith High School All-American Honorable Mention
• 2015 First Team Parade High School All-American
• Four-time First Team All-Nebraska
• Four-time First Team Super State
• Four-time First Team Class A
• Two-time Nebraska Gatorade Gatorade High School Player of the Year (2013, 2014)
• No. 1 High School Post Player in Nation (ESPN, 2014-15)
• No. 3 High School Player in Nation (ESPN, 2014-15)
INTERNATIONAL
• As a member of the USA Basketball U18 Team at the FIBA Americas Championship, Shepard averaged 12.6 points and 3.8 rebounds per game while helping the team to a 5-0 record and a gold medal in the summer of 2014. She hit 66.7 percent of her shots from the field in the tournament.
PERSONAL
• Daughter of Mark and Kim Shepard
• Born in Fremont, Neb.
• Has one older brother and four sisters