Jessica January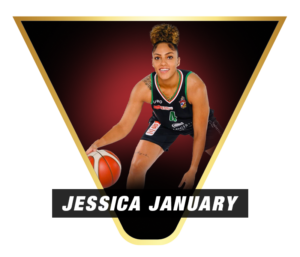 Height:

5' 7"


Position:

Guard (1)

Nationality:

American

College:

DePaul

Jessica January Scouting Report
Jessica January is an elite level guard at both guard positions. She fills up the stat sheet due to her aggressiveness and basketball skill. She is very unselfish, but can create her own shot off the dribble and post, as well as play off the ball. She locks in defensively and can guard positions 1-3 because of her strength. Her ability to lock down the other teams best guard and cause turnovers is second to none.
Stats
| | | | | | | | |
| --- | --- | --- | --- | --- | --- | --- | --- |
| | Season | PPG | RPG | APG | FPG | 3PT | FT |
| Sosnowiec (Poland) | 2022-23 | 18.4 | 9.8 | 9.1 | 36.5% | 25% | 70% |
Profile
Awards/Honors:
2017 CoSIDA Academic All-America First Team...
WBCA All-America Regional Finalist... All-BIG EAST Tournament team...
Senior CLASS Award Finalist...
John R. Wooden Award Top 25 List...
Nancy Lieberman Award Watch List...
Naismith Trophy Preseason Watch List...
Maggie Dixon Classic MVP...
Gulf Coast Showcase All-Tournament Team...
recorded second career triple-double in 2017
named team's co-MVP in 2017
four-time Shirley Becker Academic Award winner
2017 Cookie Gavin Courage Award
2016 Preseason BIG EAST Player of the Year
Sporting News 2016 Preseason third-team All-American...
2016 Nancy Lieberman Award Finalist
2016 NCAA All-Dallas Regional Team
2016 I-AAA Scholar Athlete of the Year
third-team CoSIDA Academic All-America
became only the second player in DePaul's history to record a triple-double
second-team all-BIG EAST as a junior
named the team's tri-MVP in 2016...
BIG EAST All-Freshman team...
four-time member of the BIG EAST All-Academic Team.
College
2016-17 (Senior): Started 20 games and averaged 15 points, 5.3 rebounds a a team-high 6.5 assists despite missing two months with a broken finger... in the second game back from injury recorded her second career triple-double with 16 points, 13 rebounds, 10 assists against Georgetown... led DePaul with 18 points and nine rebounds in NCAA Second Round game at Mississippi State... registered three consecutive 25-point games against UAB, Northwestern and Western Kentucky... had 18 points, 13 assists and eight rebounds against No. 11/18 Syracuse... finished with 23 points, seven boards and seven assists at Marquette... finished with 21 points, eight rebounds and five assists at Temple... scored 20 points against St. John's... had 19 points, six rebounds and six assists against No. 2/2 Notre Dame... finished her career No. 4 all-time in assists, No. 7 in steals, No. 10 in field goals and No. 17 in points.
2015-16 (Junior): 2016 Nancy Lieberman Award Finalist I-AAA Scholar Athlete of the Year | third-team CoSIDA Academic All-America | NCAA Dallas All-Regional Team | one of three captains the first DePaul player to be named a team captain as a junior since 2003-04... became only the second DePaul player in program history to record a triple double - 13 points, 10 rebounds and 10 assists at Seton Hall on Jan. 5, 2016 | second-team BIG EAST | BIG EAST Player of the Week -- Jan. 11 and Feb. 1 | BIG EAST Weekly Honor Roll - Nov. 16 and Dec. 7 | tallied five double doubles - three with points and assists and two with points and rebounds | scored 20-plus points in four games with a season-high 25 points at Louisville in the Second Round of the NCAA Tournament | second on the team with 14.1 points per game | dished out 211 assists and became just the third player in school history to record over 200 assists in a single season | DePaul's top returning scorer | averaged 14.1 points per game which ranked second on DePaul, ninth in the BIG EAST and 243rd in Division I | enters the season with 1,230 career points which ranks 22nd all-time at DePaul | boasted a 2.64 assist-to-turnover ratio which ranked eighth in DI | her 211 assists last season was the 10th most by DI player | led the BIG EAST and ranked 19th in DI with 5.9 assists per game | ranked 18th in the BIG EAST with 5.0 rebounds per game | .452 field goal percentage ranked 12th | 1.9 steals led DePaul and ranked fourth in the league.
2014-15 (Sophomore): Tabbed All-BIG EAST Honorable Mention on Mar. 2... played and started in 35 games... notched 18 games in double figures for points, reaching a career best 26 points against Georgetown on Jan. 30... had five games with 20 points or more... played more than 20 minutes each game except for four... notched a double-double with 11 points and 10 rebounds at Villanova on Jan. 2... stole the ball seven times against Northwestern on Nov. 29... put up seven assists against Xavier on Jan. 11... went 4-7 from the three-point line at Loyola-Chicago on Dec. 17... put up 12 points, five assists and two steals in season loss to Notre Dame in the NCAA
2013-14 (Freshman): BIG EAST All-Freshman Team... named the BIG EAST Freshman of the Week twice, Dec. 23 and Feb. 24... DePaul's first option off the bench... season-best 17 points against Butler... reached double-figures in 18 games including 12 against BIG EAST opponents... at least one steal in 17 of DePaul's last 18 games... eighth in BIG EAST with 1.5 steals per game... season-best four steals against Louisiana-Monroe and Georgetown... led DePaul in rebounding in four games -- Louisiana-Monroe, at Bradley, against Georgetown in the quarterfinals of the BIG EAST Tournament and at Duke... season-best eight rebounds at #5/6 Notre Dame, vs. Louisiana-Monroe and vs. Georgetown in the opening round of the BIG EAST Tournament.
High School: Finalist for Minnesota Miss Basketball Award...McDonald's All American nominee... ranked No. 74 in her class by HoopGurlz... averaged of 22.1 ppg, 6.8 apg, 6.5 rpg and 4.5 spg in 2011-12... led team to state tournament for the first time in school history, including a trip to the Class 3A state championship game in 2012... highest amount of points scored in a game in school history... also ran track and broke a 16-year-old state record in the 100m hurdles (14.29 seconds)... holds the Richfield HS records in both the 100m and 300m hurdles... placed third in the state in the long jump... Gatorade Minnesota Girls Track & Field Athlete of the Year (2010)... all-state performer in track, basketball and volleyball.
Personal:
Daughter of Montral and Stefanie January... brother, Mitchell... sister, Pamela lettered for four seasons in women's basketball at South Dakota University... finished academic career as salutatorian of her class with a 4.6 GPA... enrolled in the College of Liberal Arts and Social Sciences.