Destiny Pitts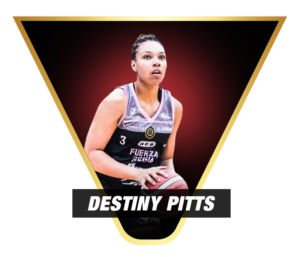 Height:

5' 10"


Position:

Shooting Guard (1)

Nationality:

American

College:

Texas A&M

Destiny Pitts Scouting Report
Destiny Pitts is a winner! She is a prolific shooter, and at 5'10, she can get her shot off on any defensive scheme. She is who every team needs as a shooting guard. She uses her body well to create space and separation against defenses. Defenses have to pay a lot of attention to her, creating opportunities for her teammates to score as a result.  Defensively, she can guard positions 2-4 and she has great hands.
Profile
2022-2023: Al Gezira (Egypt – D1 – Starting 5) – 25.8 ppg, 6.4 rpg, 4.1 apg, FGP: 49.8%
3PT: 44.6%, FT: 92%
2022: Fuerza Regia (Mexico – D1 – Starting 5) – 15.6 ppg, 8 rpg, 2.9 apg, FGP: 39.4%, 3PT: 36.1%, FT: 89.5%
ABOUT DESTINY
Crowned SEC 6th Woman of the Year after leading the conference and ranking 5th in the nation in 3-point field goal percentage off the bench
Named to the preseason watch list for the 2021 Ann Meyers Drysdale Award
Placed fourth on Minnesota's All-Time three pointers made list with 216 made baskets from behind the arc
Selected to the All-Big Ten First Team (2019) and All-Big Ten Second Team (2018)
Awarded the Unanimous Big Ten Freshman of the Year (2018)
Tabbed as a four-star recruit by HoopGurlz and was ranked as the No. 19  shooting guard
Named a finalist for Michigan's Ms. Basketball award, and earned four All-State selections
2021-22 (Graduate at Texas A&M)
Appeared in 27 games and made 18 starts while playing 29.3 minutes per contest … Averaged the second most points per game (10.4) and hit a team-best 92.5% (37-40) of her shots from the charity stripe … Knocked down 37.1% of her 3-point attempts and finished her career as the program's all-time leader in 3-point field goal percentage (40.9%) with a minimum of 100 makes … Scored in double figures on 17 occasions … Poured in 20 points, grabbed 10 boards, dished out six assists and set a season high with five made triples in the overtime win at Kentucky (Feb. 6) … Had a season-best 24 points against Vanderbilt (March 2) in the first round of the SEC Tournament … Posted three double-doubles … Was on the Ann Meyers-Drysdale Award Preseason Watch List.
2020-21 (SENIOR AT TEXAS A&M)
Transferred to Texas A&M University in 2020 and was granted immediate eligibility by the NCAA … Selected as the 2021 SEC Sixth Woman of the Year ... Named to the preseason watch list for the 2021 Ann Meyers Drysdale Award by the Naismith Memorial Basketball Hall of Fame … Led the Southeastern Conference in 3-point field goal percentage in her inaugural campaign in the league, shooting 46.2 percent from 3 in the regular season … Provided prolific offense off the bench, averaging 7.0 points on 1.8 made three-pointers per game … Scored 12 points in the win against No. 19 DePaul (Nov. 28) … Sank a season-high four three-pointers in the win over Little Rock (Dec. 10) … Led the team in scoring in the historic 112-point performance against Northwestern State, finishing with 14 points, five rebounds and a block (Dec. 28) … Sank four 3-pointers and had 14 points in the win over Auburn (Jan. 28) … Stuffed the stat sheet against Tennessee, earning a season-high 18 points on 5-for-7 shooting from the field (Feb. 14 ) … Sank all three of her 3-point attempts, contributing 11 points against Alabama (Feb. 25).
2019-20 (JUNIOR AT MINNESOTA)
Earned preseason All-Big Ten recognition… Named to the Ann Meyers Drysdale Award preseason watch list… Started in the Golden Gophers' first 15 games of the regular season… Led the Gophers on an 11-game win streak after dropping the first game of the season… Averaged 16.3 points, 4.8 rebounds and 3.3 assists per game… Shot 40% from the field and 46% from three on the yea… Finished the season fourth on the Gophers all-time three pointers made list.
2018-19 (SOPHOMORE AT MINNESOTA)
Selected as a member of the All-Big Ten First Team… Three-time Big Ten Player of the Week Honor Roll member… Recognized as an Academic All-Big Ten honoree… Ranked fifth in team single-season history in 3-pointers attempted (230) and free throw percentage (.838), and sixth in 3-pointers made (81)… Maintained a streak of eight-consecutive games with at least 20 points (2/10-3/22)… Notched 29 points on a career-best 10 made field goals in WNIT play against Northern Iowa on Mar. 22... Tied a season high with six 3-pointers and had 24 points at Rutgers on Feb. 28… Scored 24 points with a career-high six assists against Penn State on Feb. 17… Scored a career-high 35 points, including 6-of-8 on 3-pointers and 11-of-12 at the free throw line at Boston College (12/9).
2017-18 (FRESHMAN AT MINNESOTA)
Named the unanimous Big Ten Freshman of the Year… Selected to the All-Big Ten Freshman Team… Made an appearance on the All-Big Ten Second Team… Set a Minnesota freshman record with 90 made 3-pointers, the fourth-highest total in program history… Ranked fourth in Minnesota single-season history in 3-pointers attempted (241) and eighth in defensive rebounds (190)… Had six double-doubles to rank second on the team… Led the team with nine double-figure rebound performances… Played in all 33 games with starts in the final 30 games… Averaged 17.5 points and 7.0 rebounds in wins over Purdue and Penn State to earn USBWA National Freshman of the Week honors… Scored a career-high 28 points, including seven 3-pointers at Ohio State (1/4)… Grabbed a career-high 16 rebounds and had 14 points against Boston College (11/19).
HIGH SCHOOL CAREER
Graduated from Detroit Country Day High School in 2017… 2017 AP Michigan Class B Player of the Year… Selected as a Four-time AP All-State honoree… Named to the Detroit News All-State Dream Team… 2017 Michigan Ms. Basketball finalist… Received four stars from espnW and ranked 19th in the nation at her position by HoopGurlz… Nominated for the 2017 McDonald's All-America Game… Two-time Michigan Class B state champion with the Yellowjackets (2015, 2017)… State runner-up in 2016… Averaged 24 points, 6.5 rebounds, three steals and three assists as a senior.
ACADEMIC MAJOR
Technology Management