Amy Atwell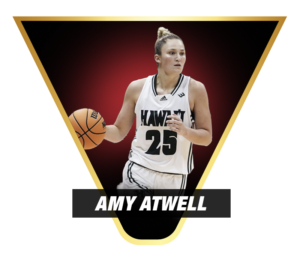 Height:

6' 0"


Position:

Small Forward (3)

Nationality:

Australian

College:

Hawaii
Amy Atwell 2020 – 2021 STATS
LA Sparks (WNBA)
Amy Atwell Scouting Report
Amy has one of the quickest releases in the world. This supremely confident wing player is phenomenal in catch and shoot situations, coming off screens and taking advantage of mismatches.  Amy has unlimited range and is a threat from anywhere on the floor.  An underrated passer, Amy is really good in pick and roll sets as a ball-handler or as the screener.  Defensively, she can guard positions 2-4 and is a physical and tough in the paint.
Profile
2021-2022: Hawaii (Big West – D1 – Starting five) – 17.8 ppg, 6.9 rpg, 1agp, FGP: 43.8%, 3PT: 38.4%, FT: 85.9%
2020-21: Hawaii (Big West– D1 – Starting five) – 12.6 ppg, 5.9 rpg, , FGP: 38.3%, 3PT: 31.9%, FT: 75%
2019-20: Hawaii (Big West – D1 – Starting five) – 10.6 ppg, 4.9 rpg, FGP: 47.6%, 3PT: 45.3%, FT: 71.9%
2018-19:  Hawaii (Big West – D1 – Starting five) – 4.8 ppg, 2.4 rpg, FGP: 42.9%, 3PT: 36.8%, FT: 83.3%
2021-2022 (Graduate Senior):
Drafted by the LA Sparks in the 2022 WNBA draft (#27 overall)
Big West Conference Player of the Year (2021-22), the first ever BWC Player of the Year from UH.
Named to the Big West Conference First-Team (2021-2022).
All-Big West Academic Team
Selected as Big West Conference player of the week four times in 2021-22, a record for UH players.
13th member of the 1,000 point and 500 rebound club
23rd member of the 1,000 point club for the Rainbow Wahine.
Only player in Rainbow Wahine history to finish in the top three for career made three-points, attempts, and percentage.
Recorded two 30 point games (vs. Portland 11/19/21 & vs. CSU Bakersfield 1/22/22)
Notched 13 games of 20 points or more.Notc
Accumulated seven double-doubles.
Finished career ranked in the following categories
No. 1 in career starts with 126
No. 1 in made three-pointers with 205
No. 1 in three-point attempts with 539
No. 2 in free throw percentage at .806
No. 2 in three-point field goal percentage .380.
No. 5 in 20 point games with 20.
No. 7 in points scored in a career with 1,270
No. 8 in defensive rebounds with 442
No. 13 in scoring average with 10.1 points per game.
Single Season Ranks:
No. 1 in three -pointers made with 76. (2021-22)
No. 1 in three-pointers attempted with 198. (2021-22)
No. 3 in three-point field percentage with .453 (2019-20), and No. 9 with .384 (2021-22).
No. 5 in free throw percentage with .859. (2021-22)
No. 9 in points scored with 534. (2021-22)
No. 9 in scoring average with 17.8. (2021-22).

2020-2021 (Redshirt Senior):
Selected to the Big West Conference Second-Team.
Named to Academic All-Big West Honors Team.
One of two players on the team who started in all 17 games, averaging  29.1 minutes per game.
Led the 'Bows in scoring with 12 points per game.
Scored double-digit points in nine of 17 games played.
Led the team in free-throws with a  .750 percentage, averaging 18.5 points per game.
Recorded a team-high 36 three pointers made on the season.
Tallied a then career-high 25 points against Long Beach State.
Recorded a season-high field goal percentage of .563 against Long Beach State.
2019-20 (Junior):
Named Big West Conference Best Sixth Player.
Selected as a Big West Conference Honorable Mention.
Led the Big West Conference in three-point shooting percentage at 45%.
Ranked No. 4 in the conference in field goal percentage at 48%.
Played in 27 games, started in 13, and averaging 22 minutes per game.
Finished second on the team in scoring with 10.6 points per game.
Tallied 4.9 rebounds per game, finishing No. 2 on the team.
Scored a season-high 24 points on two occasions, the first being against Texas (12/1) and the second coming at Cal Poly (2/6).
Hit three or more three-pointers in 14 games, including a stretch.
Scored double-digits in 14 games.
2018-19 (Sophomore):
Named academic all-Big West.
Played in 28 games, while starting seven of the last eight games.
Averaged 4.8 points and 2.4 rebounds per game.
Registered five games scoring in double figures.
Shot 83.3 percent (10-12) from the free throw line.
Erupted for a career-high 25 points on 9-11 shooting in just 16 minutes of action against Cal State Fullerton (Jan. 5).
Had 19 points and three boards in a win at UC Irvine (Feb. 7).
Drilled four 3-pointers, finishing with 18 points and six rebounds to help take down CSUN (Mar. 9).
2017-18 (Freshman):
Saw action in 24 games, along with back-to-back starts in late January.
Averaged 4.3 points and 2.4 rebounds in 13 minutes per game.
Shot 47 percent from the floor and 69 percent from the free-throw line.
Recorded a career-high 17 points against Northern Arizona (Nov. 17), along with a career-high eight rebounds.
Played a season-high 32 minutes against UC Irvine (Jan. 20), scoring 15 points and pulling down seven rebounds.
Named academic all-Big West.
2016-17 (Redshirt):
Sat out the season while recovering from injury.
Prep:
A 2015 graduate of Penrhos College in Western Australia.
Was her team's leading scorer and MVP from 2011-15.
Also played softball and was team MVP in 2014.
Competed at the U-18 State Championships in 2015 where she averaged 15.1 points and 7.9 rebounds per game.
Played club basketball for the Willetton Tigers of the Western Australia Basketball League (WABL) and won state championships in 2012-13.
Averaged 19 points per game in 2014 and 23 points per game in 2015.
Warned WABL All-Star recognition four straight years from 2012-15 and earned league MVP honors in 2015.
Prep:
Born in Perth, Western Australia.
Daughter of Ray and Shelley Atwell.
Has an older sister, Hayley, and younger brother, Ryan.
Majored in Business Marketing.