Coach Yolett McPhee-McCuin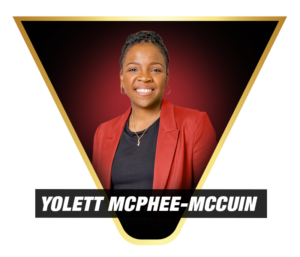 Head coach Yolett McPhee-McCuin wrapped up her fourth season in Oxford in 2021-22 with revitalized energy surrounding the Ole Miss women's basketball program, leading the Rebels to their 18th NCAA Tournament appearance and their first in 15 seasons with one of the most tenacious defenses in the country.
The 2021-22 campaign was one for the record books, as McPhee-McCuin raised the bar and elevated the Rebels back to the national stage. With the expectation of the NCAA Tournament or bust from the get-go, Ole Miss rose to the occasion, accomplishing just that. Following a season opening loss, the Rebels responded by rattling off 13 straight wins for the third longest winning streak in program history on the way to a 23-win season.
Following its second ranked win of the season at No. 23 Kentucky and fourth straight in SEC play, the Rebels saw themselves slotted in the AP Poll on Jan. 24 at No. 24 for the program's first ranking in 15 years. Defensively, Ole Miss shattered program records with a season-high 142 blocks and held a record 10 opponents under 50 points, for the most in a single-season.
Once SEC play hit, the Rebels did not cool off, picking up 10 conference wins for the second time in Ole Miss history. A 10-6 conference record pushed the Rebels into a fourth place SEC finish for its best since 1994. With a double bye secured for the SEC Tournament in Nashville, Ole Miss knocked off No. 23 Florida to advance to its ninth semifinal appearance and first since 1993 before ultimately falling to top-seeded South Carolina. Just a little over a week later, jubilation occurred with Ole Miss seeing its name called on Selection Sunday for the first time since 2007 as a seven seed.
Under her tutelage, Shakira Austin earned First Team All-SEC honors for the second straight season, and garnered national acclaim as one of the best centers throughout Division I hoops. Bringing in transfer guard Angel Baker from Wright State proved to be key, as she went on to be named as the SEC's Sixth-Woman of the Year, for the first in Ole Miss history.

 McPhee-McCuin made history of her own after the 2021-22 campaign, becoming the first woman in Bahamian history to coach at the men's national level serving as an assistant with the Bahamas Men's Senior National Team during World Cup qualifiers.
In the span of just four years, McPhee-McCuin – an 18-year veteran of the coaching industry more commonly known as Coach Yo  has turned Ole Miss into an exciting team on the rise. The energy around Oxford is palpable, due in part to Coach Yo's positive attitude and generous spirit with fans and supporters.

Ole Miss bounced back from an 0-16 SEC season in 2019-20 to a 15-12 (4-10 SEC) campaign in 2020-21 that saw the Rebels come dangerously close to crashing the Big Dance. The Rebels knocked off three top-25 teams in the span of a month including a season-sweep of nationally ranked Kentucky and a momentous upset of No. 13 Arkansas in the First Round of the SEC Tournament to mark the first SEC Quarterfinal appearance for Ole Miss since 2010. The Rebels nearly knocked off No. 14 Tennessee in that quarterfinal, which would have marked the first SEC Semifinal appearance since 1993 and likely would have pushed the Rebels into the NCAA Tournament.

The Rebels were on the outside looking in on the Big Dance despite ending the regular season with a NET of 43, five NET top-100 wins, four NET top-50 wins and a brutal final stretch that included going 4-4 in their last eight games against an average NET of 16.8 (with only two games at home). But Coach Yo and Ole Miss took that chip on their shoulder into the WNIT with a fury, advancing all the way to the championship game after playing superb team basketball -- the furthest postseason run in program history regardless of tournament. Ole Miss fell to a dominant Rice squad in that title game, but that could do little to dampen the spirits of a program with its sights set on even higher bars in the years to come.

Much of the success for the Rebels in 2020-21 came in the form of Honorable Mention All-American and First-Team All-SEC member Shakira Austin, who immediately asserted herself as one of the most feared players in the SEC and the nation after transferring to Ole Miss from Maryland in the offseason. Austin was the first First-Team selection for Ole Miss since 2014-15 and ended up on the Lisa Leslie Top-10 list, but she wasn't alone. Ole Miss' highly-touted top-ranked recruiting class from 2019 lived up to the hype in their first season, with Madison Scott earning SEC Freshman of the Year honors and Snudda Collins being named alongside her on the SEC All-Freshman team.

The swift turnaround is even more impressive when taking stock of where the Rebels were when she took over. Coach Yo took the reigns of a Rebel program her first year in 2018-19 that had just four returners and willed it to outperform all the preseason polls that had picked Ole Miss unanimously to finish last. The Rebels improved their SEC win total by two games from the year before, winning three conference contests, one of which was a thrilling 55-49 win at No. 16 Kentucky on Jan. 13, 2019. The win was the first over a ranked team on the road for Ole Miss since 2011 and the first win in general at UK since 2007.
 
McPhee-McCuin also mentored graduate transfer Crystal Allen, who in her lone season donning a Rebel jersey became one of the most electrifying players in the SEC. Allen finished the season third in the conference at 18.3 PPG and was named second-team All-SEC – the first Rebel to earn All-SEC honors since 2014-15.

She followed that up by signing the SEC's top-ranked recruiting class in 2019-20, which included two five-star signees and the first McDonald's All-American in Ole Miss women's basketball history in Madison Scott.

Coach Yo was named the Rebels' ninth head coach on April 4, 2018, the first black female head coach in Ole Miss women's basketball history.

"I am extremely humbled and grateful for the opportunity to be the women's basketball coach at the University of Mississippi, McPhee-McCuin said. "Once I stepped on campus, there was no doubt in my mind that Ole Miss had the potential to be a force to reckoned with  not only in the SEC, but nationally as well".
"

McPhee-McCuin spent the previous five seasons transforming Jacksonville into a perennial power in the Atlantic Sun Conference. During her tenure as head coach, McPhee-McCuin led the Dolphins to a 94-63 record (50-24 in ASUN play) and postseason appearances in each of her last three seasons.

 McPhee-McCuin, who has also served as the national team head coach for her native Bahamas, took over a program at Jacksonville that had only won 20 or more games in a season twice in its entire history and proceeded to march the Dolphins to three-straight 20-win campaigns in her final three years.

 In 2015-16, McPhee-McCuin and the Dolphins made history, capturing the program's first ASUN Tournament title and NCAA Tournament berth with an upset in the conference championship game over two-time defending champion Florida Gulf Coast. The victory snapped FGCU's seven-year, 71-game home streak against ASUN opponents and boosted Jacksonville to a 22-11 record.
McPhee-McCuin's team followed that up with two more 20-win seasons and the first two WNIT appearances in JU history in 2016-17 (23-9, 11-3 ASUN) and 2017-18 (24-9, 12-2) with the final season seeing the Dolphins break the school record for single-season wins. In 2016-17, Jacksonville was the lone ASUN program to receive votes in the USA Today Coaches Poll and earned the first WNIT at-large ever given to an ASUN team.

Prior to her time at Jacksonville, McPhee-McCuin was an assistant at Clemson from 2011-13, where she was recognized as one of the top assistants in the nation by National Women's Basketball Insider. While with the Tigers, McPhee-McCuin solidified her reputation as one of the best recruiters in the country, spearheading the No. 16 class in the nation in her final year at Clemson, which included five McDonalds All-America nominees.

Before her stint at Clemson, McPhee-McCuin was on staff at Pittsburgh for two seasons in 2009 and 2010. She was part of a pair of postseason appearances with Panthers, who rose to No. 14 in the national rankings and advanced to a Sweet 16.

Her coaching career also includes stops at Portland, Frank Phillips College and Arkansas-Pine Bluff, where she earned her master's degree in physical education with a perfect 4.0 GPA.

McPhee-McCuin received her bachelor's in business management and administration from Rhode Island in 2004, playing in 56 games over her junior and senior years at URI and helping the Rams advance to the 2003 A-10 title game.
She played her first two seasons at Miami-Dade Community College.

In addition to her collegiate coaching duties, McPhee-McCuin has served as the head coach for Bahamian national team since 2013. Her crowning achievement was the first Caribbean Basketball Confederation title for Bahamas in 10 years after a 55-51 win over Jamaica to qualify for the 2016 CentroBasket Championship. The success capped a very successful tournament outing with a perfect 5-0 record, and McPhee-McCuin became the first female coach to win a CBC title.

McPhee-McCuin was the first Bahamian woman to sign a Division I letter of intent to play basketball, becoming a trailblazer in the process for other aspiring athletes from her home country. She is the first Bahamian woman to coach at a Division I program and was the first black female head coach at Jacksonville.

McPhee-McCuin is also part of two Halls of Fame across both her playing and coaching career. In 2016, she was inducted into the Bahamian Athletic Hall of Fame alongside Buddy Hield (of the NBA's Sacramento Kings) and Jonquel Jones (of the WNBA's Connecticut Sun). In 2013, she was inducted into the New England Basketball Hall of Fame and was one of 10 recipients of the Pathfinder Award for their distinguished achievement outside of New England.

An active member of the coaching community, McPhee-McCuin is a member of the "So You Want to be a Coach" program through the WBCA, and she holds membership in the Women of Color Association.
In 2013, McPhee-McCuin joined the Center of Coaching Excellence's yearly class.

Throughout her coaching career, McPhee-McCuin has had a large impact in every community in which she has coached. She developed a foundation in the Bahamas called Back2Basics, which helps the development of children through education and athletics. Additionally, she was involved in numerous community service projects at her other coaching stops.

In addition to the growth she has facilitated on the court throughout her career, McPhee-McCuin and her staff have instilled an importance on community engagement both through service and via dialogue with fans and supporters.
 
Coach Yo also puts an emphasis on teaching, developing and inspiring through character-building and leadership development, as best evidenced by her trademark motto #NoCeilings, which serves as a rallying cry both within the program and to those familiar with her in the basketball community. Her point of emphasis with #NoCeilings is to preach a way of life, especially to young women, about living without limits to what can be achieved both on the court and in life.

B orn April 30, 1982, the former Yolett McPhee and her husband, Kelly McCuin, have two daughters: Yasmine and Yuri.
Education:
Bachelor's in Business Management and Administration -- University of Rhode Island, 2004
Master's in Physical Education -- University of Arkansas-Pine Bluff, 2007

Halls of Fame:
Bahamian Athletic Hall of Fame, Class of 2016
New England Basketball Hall of Fame, Class of 2013