Tiffany Mitchell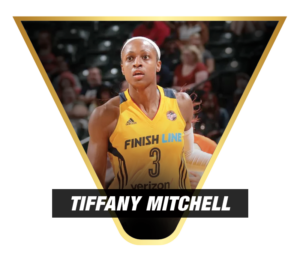 Height:

5' 9"


Position:

Point Guard (1)

Nationality:

American

College:

 South Carolina '16
Tiffany Mitchell STATS
2022 – 2023 Indiana Fever (WNBA)
6.5 ppg, 1.2 rpg, 1.1 apg, FGP: 44.8%, 3FG: 37.5%, FT: 86.5%
2022 – 2023 Melbourne Boomers (Australia)
2.1 ppg, 4.7 rpg, 4.6 apg, FGP: 48.5%, 3FG: 44.0%, FT: 78.5%
2020 – 2021 Indiana Fever (WNBA)
6.5 ppg, 1.2 rpg, 1.2 apg, FGP: 46.4%, 3FG: 38.7%, FT: 86.5%
2020 – 2021 Melbourne Boomers (Australia D1)
15 ppg, 4.5 rpg, 2.5 apg, FGP: 45.3%, 3FG: 27.4%, 1.8 SPG, FT: 86.6%
Tiffany Mitchell Scouting Report
Tiffany Mitchell begins her fifth season with the Fever after being selected ninth overall in the 2016 WNBA Draft. Mitchell had immediate impact with the Fever, including a game-high 18 points in her rookie debut against Dallas on May 14…later, she set a franchise record with 42 consecutive made free throws to close her rookie campaign, prior to her naming to the WNBA's All-Rookie Team…she broke her own record with 43 consecutive made free throws in her second season in 2017…former Fever coach Stephanie White called her a "two-way player," making the distinction that not all players contribute so thoroughly on both ends of the floor…college head coach and mentor Dawn Staley called her "Superwoman," while former South Carolina teammate A'ja Wilson referred to her as "Takeover Tiff."
A two-time SEC Player of the Year, Mitchell helped South Carolina to national title contention during her tenure with the Gamecocks, including a trip to the 2015 NCAA Final Four…a fan favorite in Columbia, Mitchell won the Dawn Staley Award, presented to the best Division I guard in the country and named for her coach, as a junior in 2015…Mitchell, in fact, looked up to Staley since the third grade when she completed a biography project on Staley's life and asked her family for Staley's red WNBA Charlotte Sting jersey, which she later wore to a Sting game before hanging it on the wall of her bedroom.
WNBA CAREER
2019: Mitchell averaged 9.7 points, 2.8 rebounds, 2.2 assists and 25.2 minutes per contest while starting 14 of 33 games played in 2019…Ended the season as the ninth leading scorer in franchise history with 1,197 points…Double-figure scorer in 15 of 33 games
First start of the season was at Chicago on 7/21 and was first start since 7/11/18 vs. Minnesota
Scored a career-high 22 points at New York on 5/24 behind a 13-of-14 clip from the free throw line
Ended the season still as the franchise leader in free throw shooting percentage (89.1%, 345/387)…Missed the last game of the regular season due to concussion protocol.
2018: Mitchell played in all 34 games with 20 starts, averaging 9.1 points, 3.1 rebounds and 2.3 assists per game…she tallied a season-high 17 points on three different occasions: at Phoenix, 8/10, at Atlanta, 7/13; and vs. Las Vegas, 6/12…she narrowly missed the first double-double of her career at Phoenix, 8/10, while recording a season-high nine rebounds…she registered a season-best seven assists three times: vs. Chicago, 8/18; at New York, 6/10; and against Washington, 5/24…she led the club in assists on four occasions.
2017: Mitchell played in 27 games with nine starts, missing the club's last seven games with torn cartilage and a bone bruise in her right knee…she averaged 10.3 points, 3.2 rebounds, 1.4 assists and 1.2 steals per game prior to her injury…she ranked fourth in the WNBA with a 92.2 percent free throw percentage…she broke her own franchise mark for consecutive free throws made, hitting 43 in-a-row from May 20 to June 28…she ended her season with another streak of 23 straight…she had season highs of 19 points and five assists in a road win at Chicago, 6/19…she scored 10 points and added a season-high eight rebounds against Washington, 7/14…she reached double-digit scoring in 16 of 27 appearances.
2016: Mitchell became only the fourth Fever rookie to play in all 34 games and she finished second behind Tamika Catchings' rookie scoring record with 291 points, an average of 8.6 per game…she finished fourth in the WNBA with a 91.1 percent clip at the foul stripe, aided by a franchise-record 42-in-a-row at the close of the season…her 91 percent foul shooting set a Fever rookie record…she scored in double figures 14 times in her rookie season…she began the season with eight straight games of double-digit scoring, the longest streak by a Fever rookie to begin her career…she opened her rookie season with an 18-point debut against Dallas, 5/14…she led the team in scoring five times, and twice eclipsed 20 points…she had a season-high 21 points at Connecticut, 6/5, and poured in 20 at LA, 7/6…she was named to the WNBA All-Rookie Team.
INTERNATIONAL
2018-19: Mitchell played nine games with Mersin in Turkey, averaging 16.3 points, 4.6 rebounds and 3.1 assists per game…in mid-December she changed teams and began playing for OGM Orman, also in Turkey, but transferred again in February to Ramla in Israel, for whom she averaged 20.8 points in 13 games.
2017-18: She did not play overseas while rehabbing a late-season WNBA injury.
2016-17: With Nadezhda Orenburg in Russia, she averaged 10.6 points, 2.2 rebounds, 1.5 assists and 1.6 steals in the Russian Superleague…she averaged 9.8 points, 2.5 rebounds and 1.8 assists in EuroLeague competition.
COLLEGE
The most decorated women's basketball player in South Carolina program history, Mitchell made more starts (135) and played in more games (139) than any player…she capped her college career as the recipient of the University of South Carolina President's Award, the highest annual award bestowed on a student-athlete, honoring achievement in athletics, academics and community outreach…on the court, she finished her career fifth in Gamecock history with 1,885 points and 234 steals…she was second in program history in both 3-point shooting (39.9 percent) and free throw shooting (77.3 percent)…Mitchell was a three-time All-American…she also was a three-time All-SEC First Team selection, and a two-time SEC Player of the Year…she was only the second sophomore to earn the award in league history…Mitchell holds seven single-season school records, including 3-point percentage (.541 in 2013-14) and free throws made (157 in 2013-14), and single-game records for 3-point percentage and free throw percentage…she was one of the team's top two scorers in all three SEC regular-season championship seasons and was the Gamecocks' top scorer during the 2015 NCAA Tournament run to the Final Four…Staley helped refine Mitchell's personal workouts, helping her shooting percentage improve from 37 percent as a freshman, to 49 percent as a sophomore and 50 percent as a junior.
2015-16: Mitchell ranked seventh in the SEC in scoring, fourth in free throw percentage, seventh in steals and sixth in 3s made per game on the season…she finished with 14.9 points per game with 61 3-pointers and 63 steals, while starting in 34 of 35 games played…she was a finalist for the Naismith Trophy…she was an Associated Press second-team All-American, and earned third-team honors on multiple All-America squads…a member of the All-SEC first team by coaches and AP, Mitchell was a second-team CoSIDA Academic All-American and a Senior CLASS Award finalist…Mitchell was USC's top scorer 13 times, and she handed out team-high assists 13 times…she led South Carolina with 15.7 points per game, six 3s and 10 assists during the SEC Tournament to earn MVP honors.
2014-15: Starting all 37 games and helping the Gamecocks to the NCAA Final Four, Mitchell averaged 14.4 points with 57 3-point field goals and 65 steals…she was named the winner of the Dawn Staley Award, presented to the nation's best guard, and was a finalist for the Naismith Trophy and Wooden Award…she captured the SEC Player of the Year award for a second straight season, along with All-SEC first-team accolades and first-team All-America honors by multiple outlets…she was the Gamecocks' first back-to-back All-American since Marshall Williams in 1992 and 1993…also a member of the SEC Academic Honor Roll…she scored in double figures a team-high 30 times, including five games of 20 or more points…she was team's top scorer a team-high 17 times, while leading the club in assists 12 times…Mitchell powered the Gamecocks into their first NCAA Final Four with a personal 7-2 run that turned a tie game into a five-point lead against Florida State, 3/29, while leading the team in scoring (21), rebounding (6) and assists (5)…she hit a game-winner with five seconds remaining against North Carolina, 3/27, to put team into the NCAA Elite Eight for the first time since 2002…she shot 6-of-6 from 3-point range against San Diego State, 11/23, the best perfect long-range shooting night in school history.
2013-14: Mitchell averaged a career-best 15.5 points while starting all 34 games for the Gamecocks…she set a school record with 157 free throws during her sophomore campaign, and added a career-high 118 assists while being named a third-team All-American…she became just the second sophomore ever to be named the SEC's Player of the Year…she was a finalist for the Wooden Award, Wade Trophy and Dawn Staley Award…she was a member of the SEC All-Defensive Team and the SEC Academic Honor Roll…she paced South Carolina in scoring 13 times, and 16 times in assists…she averaged 18.3 points and 3.3 assists in NCAA Tournament play (3 games), and broke school record for free throws made (13) and attempted (17) in an NCAA Tournament game against CSU Northridge, highlighted by hitting 6-of-6 in the final 63 seconds…she turned in her first career 20-point SEC game against Missouri, 2/2, and netted a career-high 25 points against Georgia, 2/27.
2012-13: Mitchell made 30 starts in 33 games for South Carolina, averaging 9.2 points and 5.1 rebounds per game….she led the team in scoring seven times and rebounding six times…she posted two double-doubles and was named to the SEC All-Freshman Team…she scored in double figures on 14 occasions, and recorded a career-high 11 rebounds at Florida, 1/20.
PERSONAL
Born September 23, 1994, she is the daughter of Cheryl Mitchell…she has an older brother, Tory…she majored in retail management at South Carolina…Mitchell guided Providence Day to three straight North Carolina Independent Schools Athletic Association Class 3A state championships…she was a Parade All-American as a senior and was a four-star recruit rated the 15th-best guard and top 46 player overall in the 2012 class by ESPN Hoopgurlz…named Gatorade North Carolina Player of the Year and Miss Basketball North Carolina in 2012, posting 19.6 points and 7.0 rebounds per game…she earned all-state and all-conference honors all four years of high school.