Raina Perez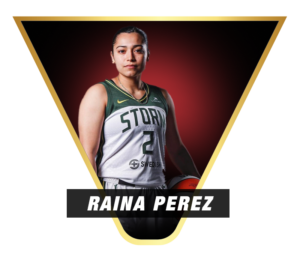 Height: 5'5

Position: Point Guard (1)

Birthdate: July 30, 1998

Nationality: American/Mexican (Dual passport)

College: NC State
Raina Perez 2020 – 2021 STATS
Fuerza Regia (Mexico D1)
12.9 ppg, 3.9 rpg, 3.6 apg, FGP: 42.4%, 3FG: 40.6%, FT: 90%
Raina Perez Scouting Report
Raina Perez is a WINNER. She is a prototypical point guard and a phenomenal leader that is very physical offensively and defensively. Raina is a knock-down shooter off the catch and off the bounce. On defense, she crowds offensive players, making them very uncomfortable, while her quick hands create steals.
Profile
2021-2022: NC State (ACC – D1 – Starting five) – 8.6 ppg, 2.7 rpg, 3.1 agp, FGP: 44.1%, 3PT: 38.6%, FT: 91.7%
2020-21: NC State (ACC – D1 – Starting five) – 9.5 ppg, 3.4 rpg, 4.7 apg, FGP: 47.3%, 3PT: 35.3%, FT: 81.4%
2019-20: Cal State Fullerton (Big West – D1 – Starting five) – 19.7 ppg, 5.4 rpg, 4.2 apg, FGP: 46.2%, 3PT: 35%, FT: 82%
2018-19: Cal State Fullerton (Big West – D1 – Starting five) – 13 ppg, 2.5 rpg, 5 apg, FGP: 42.1%, 3PT: 31.7%, FT: 80.6%
Award/Accolades:
WNBA player with the Seattle Storm
Led NC State to the Final Four
Two-Time All-ACC Academic Team
2020 Big West Player of the Year
2021-22 (GRADUATE AT NC STATE):
Played and started in all 36 games
Averaged 8.6 points, 3.1 assists and 1.1 steals in 28.6 minutes player per game
Scored in double figures in total of 17 games and dished out 3+ assists in 19 games
Tallied 18 points and shot 7-of-9 in Pack's season opener against No. 1 South Carolina; marked her highest scoring game since joining the Wolfpack; shot 4-of-4 and posted nine points in the first quarter alone
Shot perfect 6-of-6 overall and 3-of-3 from long range in home win over Virginia; totaled 16 points in that game
Dished out 10 assists in Pack's Elite Eight game against UConn, the most dishes by a Wolfpack player in NCAA Tournament history
Stellar all-around outing with 11 points, three three-pointers and eight assists in victory over Florida State
In Pack's Sweet 16 win over Notre Dame, snagged a steal with 14 seconds remaining and laid in the go-ahead bucket to put NC State up one; hauled in a defensive board on Notre Dame's next possession and iced the game away at the free throw line
Shot 38.6 percent from distance with multiple threes in 17 games; season-high three triples in six games
Team-leading 16 points in NCAA Tournament first round game against Longwood; shot 7-of-8 in win after starting the game 6-of-6
Tallied 13 points at Indiana, scoring 10 of those in the second half
Ranked 13th in program history in career NCAA Tournament points (77) in just seven games played in two years
On preseason watch list for Nancy Lieberman Award
All-ACC Academic Team member
Signed WNBA training camp contract with the Seattle Storm
2020-21 (GRADUATE AT NC STATE):
All-ACC Honorable Mention, as voted on by the Blue Ribbon Panel
Top 10 finalist for the Lieberman Award, which honors the nation's best point guard
Played in 25 games and earned the start in 23
Averaged 32.4 minutes, 9.5 points, 3.4 rebounds and 4.7 assists
Hit game-winning jumper in the 2021 ACC Tournament, knocking down a shot with 2.1 seconds remaining to secure NC State's victory
Finished the season leading the league in assist-to-turnover ratio (2.62), with that number ranking 14th nationally
Ranked second in ACC with 4.7 assists per game
Tied single-game program record for assists with 13 in the Pack's Feb. 7 game at North Carolina; turned the ball over just twice in that game
Put together five games with three or more assists and zero turnovers
Dished out three or more assists in 20 games and five or more assists in 12 games in addition to 12 double-figure scoring outings
Hit game-leading four threes in NC State's Feb. 21 win over Pitt, which tied as the most she's scored in a conference game in her career
Stepped into starting role in Pack's victory at No. 1 South Carolina. Posted 11 points and completed the night with four assists and zero turnovers
Surpassed 1,500 career points in the first round of the NCAA Tournament
All-ACC Academic Team member
2019-20 (SENIOR AT CAL STATE FULLERTON):
2020 Big West Player of the Year
Led the league in scoring with 19.8 points per game, a mark that was good for 14th nationally
Also owned national top-15 marks in field goals made (5th - 239) and final points (9th - 613)
Started all 31 games for Cal State Fullerton
Averaged 5.4 rebounds and 4.2 assists during her final season with the Titans
Scored 30+ points in four outings in 2019-20, including a career-high 34 points on three different occasions
Posted double figures in all but one game
2018-19 (JUNIOR AT CAL STATE FULLERTON):
All-Big West Honorable Mention
Played in 29 games, starting in 28 of those outings
Led the team in average minutes (35.9), points (13.0) and assists (5.0)
Recorded first career double-double at Cal Baptist with 13 points and 13 assists
Reached double figures in 23 of 29 games, including a 23-point performance in the squad's conference opener against Hawai'i
2017-18 (SOPHOMORE AT CAL STATE FULLERTON):
Redshirted the season
2016-17 (FRESHMAN AT NORTHERN ARIZONA):
Appeared in all 30 games and earned nine starts
Averaged 10.1 points, 2.1 rebounds and 2.3 assists per game. Totaled 303 points, 63 rebounds and 68 assists that season
Led all freshmen in the Big Sky Conference in scoring during league play with 11.9 points per game
Recorded 16 double-digit scoring performances and had two 20+ point outings
Made 39 three pointers, the second-most by a rookie in school history
PRIOR TO NORTHERN ARIZONA:
2016 All-Division I First Team
2015 Division I Player of the Year and All-Section Team
Holds Millennium High School records for most points, assists and steals
Three-time high school MVP and three-year team captain
COACH MOORE'S TAKE:
"We're very excited to add such a prolific scorer as Raina. A combo guard, she can create her own shot while also keeping her teammates involved. With the recent graduation of three talented guards, Raina brings much-needed experience and scoring ability to the position."