Dara Mabrey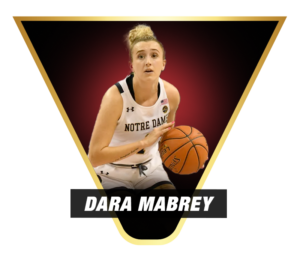 Height:

5' 7" (1.78m)

Position:

Shooting Guard (1)

Nationality:

American

College:

Notre Dame

Scouting Report
Dara Mabrey is a pro. She is who every team needs as a shooting guard. Whether she's running off screens or creating shots off the bounce in pick and roll or iso situations, she makes defenses pay. Defenses have to pay a lot of attention to her, creating opportunities for her teammates to score as a result.  Defensively, she can guard positions 1-2 and is a fighter. She doesn't take plays off and will do whatever it take to win!
Profile
2022-2023: Notre Dame (ACC – D1 – Starting 5) – 9.3 ppg, 2.7 rpg,  2.4 apg, FGP: 33%, 3PT: 29%, FT: 81%
2021-2022: Notre Dame (ACC – D1 – Staring 5) – 10.3 ppg, 1.9 rpg, 2.3 apg, FGP: 40%, 3PT: 37%, FT: 84%
Career Awards
Four-time ACC All-Academic Team member
ACC Player of the Week (Jan. 17, 2022)
Naismith National Player of the Week (Jan. 17, 2022)
2019 All-ACC Freshman Team member
Earned ACC Freshman of the Week honors on Feb. 4, 2019
CAREER HIGHS
Points: 34 (at Ohio, 11/27/20)
Rebounds: 7, 2x (last vs Purdue Fort Wayne, 12/12/21)
Field Goals Made: 11, 2x (last at Oklahoma, 3/21/22)
Field Goals Attempted: 19, 2x (last at Oklahoma, 3/21/22)
3-Point Field Goals Made: 7, 2x (last at Oklahoma, 3/21/22)
3-Point Field Goals Attempted: 14 (at Ohio, 11/27/20)
Free Throws Made: 12 (at North Carolina, 2/9/20)
Free Throws Attempted: 12 (at North Carolina, 2/9/20)
Assists: 7, 2x (last at Syracuse, 11/14/21)
Blocks: 2, 2x (last at Valpo, 12/8/21)
Steals: 5 (at Clemson, 1/19/23)
Minutes: 40, 2x (last at Ohio, 11/27/20)
MISCELLANEOUS
Double-figure scoring: 71
20-point games: 22
30-point games: 1
AT NOTRE DAME
GRADUATE SEASON (2022-23)
Season was cut short due to an ACL injury and tibial plateau fracture suffered against UVA
Averaged 9.3 points, 2.7 rebounds, 2.4 assists, 1.2 steals and 29.2 minutes played over 18 games/starts
Hit her 300th career 3-pointer at Syracuse (145 at Notre Dame, 155 at Virginia Tech)
Had 301 career treys, which ranked 10th amongst active D1 players at the time of her injury
Made five three-pointers in the first half against Ball State, finished with 19 points
Sunk her 275th career three-point shot against Northwestern, becoming the all-time leading three-point shooter amongst her sisters. Marina made 274 three-pointers (first all-time at Notre Dame, while Michaela made 228 (sixth all-time at Notre Dame)
Finished her collegiate career with a 40.1 percent success rate from 3-point range
SENIOR SEASON (2021-22)
Started all 33 games, averaging 32.4 minutes. The team's leader and biggest talker on the floor.
Dara's 13 three-pointers tied for the 2nd most in the NCAA Tournament, behind 14 from South Carolina's Destanni Henderson, despite Dara playing just 3 games.  In fact, Dara's 12 three's over the first two rounds were the most of any men's or women's player in the 2022 NCAA Tournament.
Dara tied her sister Marina for an ND record, 7 made three-pointers in an NCAA Tournament game, against Oklahoma. Dara was unconscious in the first quarter, making 5 three's in a row, totaling 17 points in the opening period.
Led the Irish in scoring in the NCAA Tournament, averaging 18.7 points. Dara shot 21-of-35 (.600) from the field and 13-of-23 (.565) from beyond the arc
Overall, her 2.2 threes/game led the team and ranked 4th in the ACC. Meanwhile, Dara connected on 36.9 percent from three, which ranked 5th in the league.
Late-game hero in win at No. 16 Georgia Tech on Feb. 17. Dara hit a shot clock buzzer-beater at 2:56 in the 4th then a big and-one at 1:23. She then scored 6 of her 11 points in OT.
Called sharpie on Virginia Tech when she iced the game with a dagger three with 3:12 remaining to keep the Irish up double digit ppoints.
Hit a pivotal three at 7:34 in the 4th, followed by a tough layup in traffic at 5:16 in the win over No. 3 NC State on Feb. 1. Dara finished with 7 points.
Dara produced back-to-back season highs in the wins over Wake and No. 21 UNC, which resulted in her first ACC Player of the Week honor. She was also named the Naismith Trophy's National Player of the Week. Dara dropped 22 points at Wake, then 24 points over UNC, converting a season high 6 made three-pointers against the latter. She ultimately hit 9 three's on the week, including one from the WF logo.
Dara has started all 117 games played. When looking at all Division I players who have played at least 117 games over the last 4 years, just 17 others have started in every one like Dara.
Dished out 2.3 assists/game which ranked 2nd on the team.
Woman possessed to start the Fordham game on Nov. 18. Dara went 6-for-6 in the first quarter, including 2-for-2 from deep, to total 15 points in the opening period. She ultimately finished with 20 points.
In the road win at Syracuse on Nov. 14, Mabrey posted 16 points, 4 steals and 7 assists, as both the steals + assists either set or tied a career high. Also, the senior was feeling it from deep, connecting on 4-of-6.
Queens of the Three: The trio of Mabrey sisters now own a combined 768 made three pointers in collegiate play. Marina holds the ND program record with 274. The Mabrey trio have also scored over 3,000 total points at ND (3,386). Counting Dara's time at VT – the trio have combined for over 4,000 points in college.
JUNIOR SEASON (2020-21)
Started in all 20 games, averaging 32.5 minutes.
Queens of the Three: The trio of Mabreys now own a combined 697 made three pointers in collegiate play. Marina holds the ND program record with 274.  The Mabrey trio have also scored over 3,000 total points at ND (3,047).
Her .385 3PT FG% ranked 5th in the ACC and 61st in the nation, while her 2.0 three's/game ranked 13th in the ACC.
The three-point shooting quartet of Mabrey, Westbeld, Brunelle and Walker were the primary reason the Irish went from 15th in the ACC in 2020 in 3PT FG% (.271) to 4th this past season (.352) – and 41st in the country.
Dara's 3.2 assists/game led the Irish, as did her 1.4 assist-to-turnover ratio which ranked 11th in the ACC.
Dara averaged 4.3 assists/game in the month of January, which ranked 6th among ACC players. Also averaged 14.0 ppg in January, which led the Irish.
Scored 14 of her 23 points in the 2nd half at UNC (1/24), connecting on five treys. Also dished out a career high 7 assists.
Vs Boston College on Jan. 17 – first 20+ point performance since her 34-point explosion in the season opener. Mabrey was near perfect from the field (7-of-8 FG / 3-of-4 3PT). Dara recorded 11 of her 21 points in the 2nd quarter, where she secured two and-one's in a span of 63 seconds.
Scored 10 of her 16 points in the fourth quarter to push the Irish to a 69-67 victory over Georgia Tech on Jan. 3. Mabrey also hit 2 big triples in the fourth.
Three days prior in Miami (12/31), Mabrey was clutch in the 2nd half again, where she scored 12 of her 17 points. She also tied her career high of 6 assists at Miami.
Mabrey magic in a ND jersey – Dara went off for a career high 34 points in the season opener – marking the most prolific Irish debut in history. She now owns family bragging rights, topping both the career highs of her two sisters. Dara went 7-of-14 from three, tying for the second most three-pointers in a single game.
Played out of position for the majority of the season. Once point guard Olivia Miles joined, Mabrey gravitated back out to the 2.
AT VIRGINIA TECH
SOPHOMORE SEASON (2019-20)
Left Virginia Tech ranking seventh all-time in made three-pointers with 155
Started in all 30 games as a sophomore, averaging 32.6 minutes.
Averaged 11.9 points and dished out 53 assists
Ranked third in the ACC in three-point shooting percentage (.364).
Shot 84.5 percent from the free-throw line
Started the season with a career best 10 straight games in double figures
 FRESHMAN SEASON (2018-19)
Set the program record with 80 made three-pointers during her freshman season
Started all 34 contests, averaging 28.0 minutes per game
Led the team in assists with 92
Averaged 11.2 points per game, shooting 44.2 percent from the floor
Ranked third nationally in three-point field goal percentage, converting 46.2 percent from beyond the arc
Tallied 22 points at Pittsburgh on Jan. 30.
Recorded her first back-to-back games with 20+ points when she scored a career high 26 points twice at Boston College on Feb. 3.
High School
Mabrey won two New Jersey state titles at Manasquan with coach Lisa Kukoda.
She was named the New Jersey Gatorade Player of the Year in both 2017 and 2018, in addition to being honored as the Player of the Year by every media outlet including the Shore Conference.
Mabrey was graded a 90 on ESPN's HoopGurlz.
Personal
The daughter of Patricia and Leon
First three-sibling sister group to go through the program, joining 2016 alumnae Michaela and 2019 alumnae Marina