Courtney Range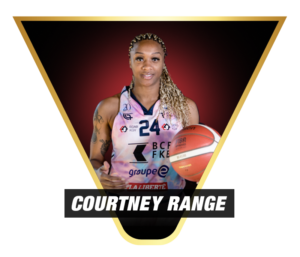 Height:

6' 3"


Position:

Center

Nationality:

American

California
Courtney Range STATS
2022-2023: Elfic Fribourg (Switzerland – Eurocup)
21.2 ppg, 9.2 rpg, 3.3 apg, FGP: 50.5%, 3PT: 41.3%, FT: 61.5%
2021-22: Namur Capitale (Belgium – D1)
11 ppg, 8.1 rpg, 3.8apg, FGP: 39.4%, FT: 72.7%
2020-21: Namur Capitale (Belgium – D1)
15.6 ppg, 9.9 rpg, 2.1 apg, FGP: 38.3%, FT: 71.2%
2019-20: Elfic Fribourg (Switzerland – D1)
19.2 ppg, 10.4 rpg, 2apg, FGP: 40%, FT: 60%
Scouting Report

Courtney is a physical and very athletic center. She can stretch the defense out to the 3-point line or dominate them in the paint. She rebounds like a monster on both ends. Defensively, she can guard positions 3-5 and uses her great athleticism to make it tough on her opponents. She is a WNBA level talent.
College Career Highlights
• 2x All-Pac-12 Honorable Mention – Coaches (2014, 2016)
• Pac-12 All-Freshman Honorable Mention – Coaches (2014)
• Naismith Trophy Top 50 Watch List (2016)
• Pac-12 Player of the Week (Nov. 16, 2015)
As a Junior (2015-16):

Picked up her second All-Pac-12 Honorable Mention laurel
Naismith Trophy Top 50 Watch List honoree to open the season
One of three Bears to start all 32 games
Second on the squad in points (13.4 ppg) and rebounds (5.8 rpg)
Led Cal in field goal attempts (420) and three-point attempts (142)
Averaged 12.5 points and 5.0 rebounds in conference action
Cal's highest scorer in seven games, and highest rebounder in four games
Scored in double figures in 20 games, including four 20-point outings, with two double-doubles
Finished the regular season top 15 in the Pac-12 in: offensive rebounds (11th, 2.6 rpg), 3-point field goal percentage (12th, 34.6%), field goal percentage (13th, 39.1%), 3-point field goals made (13th, 47), scoring (14th,13.5 ppg)
Ranks 10th in Cal's single-season records for three-pointers made with 47
Tied for fifth in three-point attempts with 142
Averaged 12.7 points and 6.3 rebounds in the conference tournament
Scored a near double-double with 17 points and nine rebounds in the season finale vs. UCLA (March 5)
Career-best assist (5) and steal (4) totals vs. Washington (Jan. 31)
Recorded a career-best 29 points vs. UCLA (Dec. 21) plus 12 boards for a double-double
Named Pac-12 Player of the Week for her role in upsetting No. 8 Louisville on Nov. 15 with a double-double on 19 points and 13 rebounds
Led Cal with 23 points in the season opener at Austin Peay State (Nov. 13)

As a Sophomore (2014-15):
Appeared in 27 games and made nine starts … averaged 8.7 points and 5.4 rebounds per game … scored a career-best 27 points in the season opener at Pacific on 10-of-13 shooting while pulling down 11 rebounds for her lone double-double of the season … had a three-game stretch where she scored 14, 17 and 21 points in games against San Jose State (November 28), Creighton (November 29) and Sacramento State (December 3) … started the first eight games of the season to post averages of 14.3 points and 8.1 rebounds per game before suffering a knee injury at Kansas (Dec. 7) that sidelined her for six weeks and a total of seven games until returning against Arizona State (January 16) … again recorded three consecutive games in double figures in home games against UCLA (11 points), Washington (10 points) and Washington State (11 points) … matched her career-high with three blocked shots at Arizona (February 6) … dished career bests of three assists against the Wildcats as well as in postseason play against Washington (March 6) and Wichita State (March 20) … nearly registered a double-double in the Pac-12 Tournament Championship game against Stanford (March 8) with 17 points and nine boards … scored 12 points in NCAA Second Round action against Texas (March 22).
As a Freshman (2013-14):
One of four players to play in all 32 games for the Golden Bears ... averaged 5.6 points and 6.2 rebounds per game ... hit double-figures rebounding and led the Bears in rebounding in five of her first seven career games ... scored nine points with 14 rebounds and one blocked shot in her collegiate debut against Long Beach State (November 8) ... matched her career-high of 14 rebounds at George Washington (November 15) ... scored 10 points for the first time against Wake Forest at the Nugget Classic (November 29) ... also blocked a career-high three shots against the Demon Deacons ... had her first career double-double against Idaho in the Nugget Classic championship game with 11 points and 11 rebounds (November 30) ... opened Pac-12 play with 10 points against Oregon State and a double-double (12 points, 13 rebounds) against Oregon ... hit her first career 3-pointer against Arizona (February 14) after missing her first 18 career attempts ... scored 11 points behind a 3-of-6 effort from 3pt range at UCLA (February 21).
High School:
Highly heralded as the No. 5 winger in the country...No. 36 overall recruit in the country by BlueStar and No. 38 by HoopGurlz...averaged 14.9 points per game for St. Mary's High School ...led her team to the CIF Division II title game...named to the California All-State team...Stockton Record All-Area team...finished her prep career at Manteca High.

Gottlieb on Range:
"Courtney is one of the most versatile players in the country, and will bring a new dimension to our team. Her height makes her tough to stop inside, yet her perimeter ballhandling and shooting skills make her a legitimate wing player. She brings winning ways from her high school and Cal Stars club experiences, and we are so excited to have her in the Golden Bear family."